November 30th, 2014
Liv­ing here in a fairly rural part of Mary­land, I see things that the aver­age sub­ur­ban­ite wouldn't encounter in a year liv­ing in a san­i­tized and man­i­cured neighborhood.
I can sit in my favorite chair and watch red foxes play fight in the back field. In spring, the tulip trees look like Christ­mas trees with twin­kling fire­flies in the night. I have stared in awe to see an eagle fly not 20 feet over where I was walk­ing my lit­tle dogs. I was tick­led when blue­birds col­o­nized my hugely expen­sive and unused pur­ple mar­tin gourds. And one mem­o­rable day I watched on as turkeys for­ni­cated on my front lawn.
On the other hand, I have had to boldly inter­vene when Tina Turner, a beau­ti­ful Pol­ish chicken, was chased down by a hawk who wasn't at all impressed with my wind­mill arms and lunatic shriek­ing. I have stum­bled upon dead moles, dead snakes, dead wood­chucks and dead baby bun­nies, only to return a short time later to haul them off to the woods with a shovel to find that they had dis­ap­peared. And one time dur­ing an early morn­ing run, my hus­band encoun­tered a still­born deer in the mid­dle of our driveway.
At 10 in the morn­ing this past Hal­loween Day a bloody-footed rac­coon walked across our front porch just between the door sill and the mat, leav­ing a pool of blood to one side and drip­ping blood down the side­walk before ambling across the lawn and into the woods.
You don't see that every day in the burbs.
Recently I was out for my run when I slammed into a force field of stench. It was just up the dri­ve­way from the house where an omi­nous band of silent black vul­tures had con­gre­gated. The odor was so over­pow­er­ing I was forced to sprint past hold­ing my nose and mouth breath­ing. My eyes were water­ing like a spigot. The smell attached itself to my clothes and fol­lowed me up the road.
No small corpse could be caus­ing such an impres­sive stink. Surely it was some­thing quite large. Maybe an ele­phant. Or a brontosaurus.
Maybe some ani­mal had taken the next step on the Cir­cle of Life ride.
Then my mind raced. What if it wasn't a dead ani­mal? What if it was really human remains out there in the woods near my dri­ve­way? What should I do?  Should I investigate?
But maybe some­one had dumped a dead and putre­fy­ing body there and I would stum­ble across it, acci­den­tally plant­ing my DNA on the corpse and when I called the county sher­iff they would come out to inves­ti­gate and con­clude that I blud­geoned and dumped the body of a blog­ger who had writ­ten a mean review about my book and they would take me off to prison and I would be all like Orange is the New Black, let myself go and have to get a gangsta nick­name like Ugly Stretch and have an inter­est­ing but diverse new group of friends and never put up another jar of jam, although maybe I could get a job in the prison kitchen if I was really nice to the ter­ri­fy­ing Russ­ian lady in charge, but really they would prob­a­bly make me work in the elec­tri­cal shop as part of my reha­bil­i­ta­tion but instead I would get elec­tro­cuted and die young because I'm not good at fix­ing things.
My hus­band could totally deal with prison bet­ter than me.
But he wasn't home to go look instead of me, so I finally worked up my courage to inves­ti­gate. I put on my big rub­ber boots and gloves and tied a pretty scarf around my face bandito-style. Might as well go out in style, right?
I shoed away the black vul­tures (gosh, they're scary) and care­fully tip­toed into the woods so I wouldn't dis­turb any evi­dence. A cou­ple of feet past the tree line I spied the enor­mous, bloated dead deer that was caus­ing the stink.
I'm sorry, Bambi, but thank you, Jesus! I am not going to prison! I'm free! I went home to cel­e­brate my free­dom with a plate of cookies.
Boy howdy. That stench had stay­ing power. It took four days for nature's cleanup crew to fin­ish their pic­nic and for the smell to dis­perse. In the mean­time the dri­ve­way to our home looked like a more Mafioso ver­sion of The Birds.
Since I'm not going to prison after all I'm enjoy­ing the fresh air of free­dom. It feels won­der­ful not to be behind bars, to savor the quiet and shower all by myself.
Ah, rural liv­ing! I think I would be bored liv­ing in the suburbs.
Posted In: Nature and Wildlife
October 15th, 2014
Now that I have put the pack back on, so to speak, and am blog­ging again after my year-long blog vaca­tion, I decided I bet­ter check in on those clever blog gurus. You know who they are. They're the pro­fes­sional blog­gers who tell us amateur-hour blog­gers all the things we need to do to become big-time blog­gers as clever, indus­tri­ous and remark­able as they are.
One of the first things I noticed is that the gurus are all talk­ing about how to mon­e­tize your blog. "Mon­e­tize your blog" is the fancy way of say­ing "mak­ing money from your blog."
(*Head slap*)
Bril­liant! I'm going to make this lit­tle Word­Press baby into a money press so that I can sit back and watch that beau­ti­ful green stuff pile up in my check­ing account while I fid­dle with pretty tomato jam pho­tos and give updates from my incred­i­bly excit­ing and col­or­ful life. Why have I waited so long to get onboard with this wealth-generating phenomenon?
So, I did some surfing—I mean, I invested in the future of my blog by spend­ing an after­noon doing research—and read up all about how to make money blog­ging. There's a lot out there. I mean—a LOT.
There's just one prob­lem. From what I can tell, it involves a lot of work.
To make money blog­ging involves blog­ging at least once a day—but prefer­ably more. You have to have a really unique and clever niche about which you know more than any­one. Then you have to fig­ure out all sorts of soft­ware and plu­g­ins so you can mine infor­ma­tion you col­lect from peo­ple who visit your blog. Then you have to entice your blog vis­i­tors with offers so that they will divulge their email addresses. Then you have to pro­duce ebooks and white papers and pod­casts and Youtube videos and all sorts of other stuff so that you can offer it for free to the blog vis­i­tors so that they will love you and hang on your every word and will come back to visit your blog every sin­gle day so that you can then try to sell them other ebooks and white papers and pod­casts and Youtube videos. Then when you get a whole bunch of emails of peo­ple who love you and can't get enough of your free stuff you can roll out your sub­scrip­tion prod­ucts so that all those peo­ple will pay you to write even more stuff to pro­mote other stuff that you will write to sell.
To quote the immor­tal words of that Youtube lady, "Ain't nobody got time for that!"
Besides, I came up with a bet­ter, brilliant-er plan.
Wait for it!
Instead of mon­e­tiz­ing my blog, I am going to mon­e­tize my dog!
I am going to turn the Papillon-driven cash flow that's been going on around here back in my direc­tion. I am going to put Sophie to work to pay for her expen­sive home­made roast chicken thigh din­ners, $300/year den­tal clean­ings, $50/month pre­scrip­tion med­ica­tions, $40 beauty shop appoint­ments, not to men­tion all the designer sweaters, neck ker­chiefs and bling she likes to wear when she lounges around the house on my furniture.
There­fore, I am announc­ing the fol­low­ing oppor­tu­ni­ties to inter­act with Sophie.
Hire Sophie as Your Team Mas­cot – Sophie loves sports, espe­cially if she gets to dress as one of the play­ers. Sophie will show up at your games and bark her head off. She will allow peo­ple to pet and admire her.
She will hap­pily chow down with the play­ers at the team buf­fet table and prance down the field at parade time. Bet­ter yet, you can wheel her around in her own per­sonal conveyance.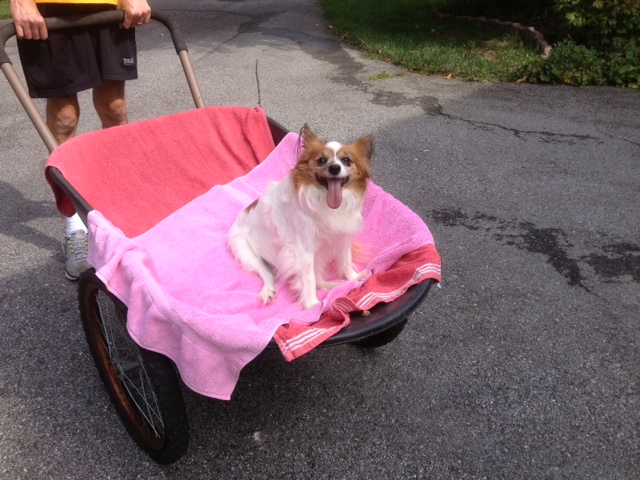 Book Sophie for a Per­sonal Appear­ance at Par­ties, Open­ings and Other Events (Just Like Paris Hilton!) – Sophie can be quite the party ani­mal. She has her own bling, but if Harry Win­ston wants to drape a few dia­monds around her neck, she will be happy to oblige.
Buy Sophie's Col­lectible, Lim­ited Edi­tion Paw Print – And you can pick a paw! She has four of them, so there are actu­ally four sets of lim­ited edi­tions. Col­lect all four!
Upcom­ing prod­ucts will include the inevitable t-shirts, ball caps, bumper stick­ers and more.
There will also be a Sophie iPhone and Adroid app. We are par­tic­u­larly excited about this one. The new Sophie app will wake you every sin­gle day, includ­ing Sat­ur­days and hol­i­days, at the crack of dawn with her unique musi­cal blend of snort­ing, sniff­ing and cough­ing. If you opt to pur­chase the iPhone scent-generator attach­ment, you can enjoy the unmis­tak­able eau de dog­gie fart.
But wait! There's more!
The Sophie app will occasionally—but unpredictably—wake you at 3 a.m. to go out­side and look at the stars while it dis­plays an ani­mated Sophie wan­der­ing in cir­cles look­ing for just the right spot to poo.
You may be won­der­ing about how Sarah, Sophie's best fren­emy, fits into this scheme. She doesn't. Sarah hates to have her pic­ture taken. I'm not sure, but when I point the cam­era in her direc­tion she seems to think I'm try­ing to steal her soul.
Until I get Sophie's per­sonal web­site and toll-free num­ber set up, you can just con­tact me by email. Price list avail­able on request.
Go Sophie! Cha-ching!
Posted In: Blogging, Dogs and Cats