November 30th, 2014
Living here in a fairly rural part of Maryland, I see things that the average suburbanite wouldn't encounter in a year living in a sanitized and manicured neighborhood.
I can sit in my favorite chair and watch red foxes play fight in the back field. In spring, the tulip trees look like Christmas trees with twinkling fireflies in the night. I have stared in awe to see an eagle fly not 20 feet over where I was walking my little dogs. I was tickled when bluebirds colonized my hugely expensive and unused purple martin gourds. And one memorable day I watched on as turkeys fornicated on my front lawn.
On the other hand, I have had to boldly intervene when Tina Turner, a beautiful Polish chicken, was chased down by a hawk who wasn't at all impressed with my windmill arms and lunatic shrieking. I have stumbled upon dead moles, dead snakes, dead woodchucks and dead baby bunnies, only to return a short time later to haul them off to the woods with a shovel to find that they had disappeared. And one time during an early morning run, my husband encountered a stillborn deer in the middle of our driveway.
At 10 in the morning this past Halloween Day a bloody-footed raccoon walked across our front porch just between the door sill and the mat, leaving a pool of blood to one side and dripping blood down the sidewalk before ambling across the lawn and into the woods.
You don't see that every day in the burbs.
Recently I was out for my run when I slammed into a force field of stench. It was just up the driveway from the house where an ominous band of silent black vultures had congregated. The odor was so overpowering I was forced to sprint past holding my nose and mouth breathing. My eyes were watering like a spigot. The smell attached itself to my clothes and followed me up the road.
No small corpse could be causing such an impressive stink. Surely it was something quite large. Maybe an elephant. Or a brontosaurus.
Maybe some animal had taken the next step on the Circle of Life ride.
Then my mind raced. What if it wasn't a dead animal? What if it was really human remains out there in the woods near my driveway? What should I do?  Should I investigate?
But maybe someone had dumped a dead and putrefying body there and I would stumble across it, accidentally planting my DNA on the corpse and when I called the county sheriff they would come out to investigate and conclude that I bludgeoned and dumped the body of a blogger who had written a mean review about my book and they would take me off to prison and I would be all like Orange is the New Black, let myself go and have to get a gangsta nickname like Ugly Stretch and have an interesting but diverse new group of friends and never put up another jar of jam, although maybe I could get a job in the prison kitchen if I was really nice to the terrifying Russian lady in charge, but really they would probably make me work in the electrical shop as part of my rehabilitation but instead I would get electrocuted and die young because I'm not good at fixing things.
My husband could totally deal with prison better than me.
But he wasn't home to go look instead of me, so I finally worked up my courage to investigate. I put on my big rubber boots and gloves and tied a pretty scarf around my face bandito-style. Might as well go out in style, right?
I shoed away the black vultures (gosh, they're scary) and carefully tiptoed into the woods so I wouldn't disturb any evidence. A couple of feet past the tree line I spied the enormous, bloated dead deer that was causing the stink.
I'm sorry, Bambi, but thank you, Jesus! I am not going to prison! I'm free! I went home to celebrate my freedom with a plate of cookies.
Boy howdy. That stench had staying power. It took four days for nature's cleanup crew to finish their picnic and for the smell to disperse. In the meantime the driveway to our home looked like a more Mafioso version of The Birds.
Since I'm not going to prison after all I'm enjoying the fresh air of freedom. It feels wonderful not to be behind bars, to savor the quiet and shower all by myself.
Ah, rural living! I think I would be bored living in the suburbs.
Posted In: Nature and Wildlife
October 15th, 2014
Now that I have put the pack back on, so to speak, and am blogging again after my year-long blog vacation, I decided I better check in on those clever blog gurus. You know who they are. They're the professional bloggers who tell us amateur-hour bloggers all the things we need to do to become big-time bloggers as clever, industrious and remarkable as they are.
One of the first things I noticed is that the gurus are all talking about how to monetize your blog. "Monetize your blog" is the fancy way of saying "making money from your blog."
(*Head slap*)
Brilliant! I'm going to make this little WordPress baby into a money press so that I can sit back and watch that beautiful green stuff pile up in my checking account while I fiddle with pretty tomato jam photos and give updates from my incredibly exciting and colorful life. Why have I waited so long to get onboard with this wealth-generating phenomenon?
So, I did some surfing—I mean, I invested in the future of my blog by spending an afternoon doing research—and read up all about how to make money blogging. There's a lot out there. I mean—a LOT.
There's just one problem. From what I can tell, it involves a lot of work.
To make money blogging involves blogging at least once a day—but preferably more. You have to have a really unique and clever niche about which you know more than anyone. Then you have to figure out all sorts of software and plugins so you can mine information you collect from people who visit your blog. Then you have to entice your blog visitors with offers so that they will divulge their email addresses. Then you have to produce ebooks and white papers and podcasts and Youtube videos and all sorts of other stuff so that you can offer it for free to the blog visitors so that they will love you and hang on your every word and will come back to visit your blog every single day so that you can then try to sell them other ebooks and white papers and podcasts and Youtube videos. Then when you get a whole bunch of emails of people who love you and can't get enough of your free stuff you can roll out your subscription products so that all those people will pay you to write even more stuff to promote other stuff that you will write to sell.
To quote the immortal words of that Youtube lady, "Ain't nobody got time for that!"
Besides, I came up with a better, brilliant-er plan.
Wait for it!
Instead of monetizing my blog, I am going to monetize my dog!
I am going to turn the Papillon-driven cash flow that's been going on around here back in my direction. I am going to put Sophie to work to pay for her expensive homemade roast chicken thigh dinners, $300/year dental cleanings, $50/month prescription medications, $40 beauty shop appointments, not to mention all the designer sweaters, neck kerchiefs and bling she likes to wear when she lounges around the house on my furniture.
Therefore, I am announcing the following opportunities to interact with Sophie.
Hire Sophie as Your Team Mascot – Sophie loves sports, especially if she gets to dress as one of the players. Sophie will show up at your games and bark her head off. She will allow people to pet and admire her.
She will happily chow down with the players at the team buffet table and prance down the field at parade time. Better yet, you can wheel her around in her own personal conveyance.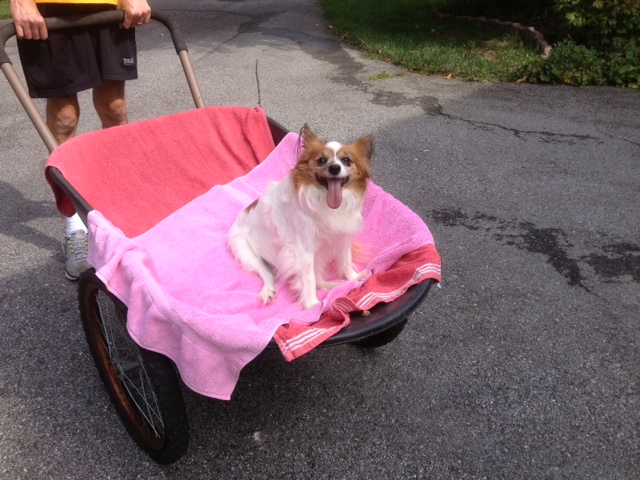 Book Sophie for a Personal Appearance at Parties, Openings and Other Events (Just Like Paris Hilton!) – Sophie can be quite the party animal. She has her own bling, but if Harry Winston wants to drape a few diamonds around her neck, she will be happy to oblige.
Buy Sophie's Collectible, Limited Edition Paw Print – And you can pick a paw! She has four of them, so there are actually four sets of limited editions. Collect all four!
Upcoming products will include the inevitable t-shirts, ball caps, bumper stickers and more.
There will also be a Sophie iPhone and Adroid app. We are particularly excited about this one. The new Sophie app will wake you every single day, including Saturdays and holidays, at the crack of dawn with her unique musical blend of snorting, sniffing and coughing. If you opt to purchase the iPhone scent-generator attachment, you can enjoy the unmistakable eau de doggie fart.
But wait! There's more!
The Sophie app will occasionally—but unpredictably—wake you at 3 a.m. to go outside and look at the stars while it displays an animated Sophie wandering in circles looking for just the right spot to poo.
You may be wondering about how Sarah, Sophie's best frenemy, fits into this scheme. She doesn't. Sarah hates to have her picture taken. I'm not sure, but when I point the camera in her direction she seems to think I'm trying to steal her soul.
Until I get Sophie's personal website and toll-free number set up, you can just contact me by email. Price list available on request.
Go Sophie! Cha-ching!
Posted In: Blogging, Dogs and Cats