March 14th, 2008
There are flower arrangements and then there are flower arrangements.
Personally, I detest the overly-colorful and tightly packed arrangements that I associate with almost anything you can order through FTD. I have finally trained my husband to get a bunch of fresh flowers from the florist–or even the grocer–that I can arrange at home in my own lovely containers. But Ikebana is another matter altogether. Take a look at these displays from the Philadelphia Flower Show and tell me what you think. They are competitive examples of Ikebana, the Japanese art of flower arranging.
You won't find abundant and exuberant displays of bountiful blossoms. This is all about line and form. Restraint even, from what I can tell. And the container is as important as the arrangements, which often rely on twigs or other materials to make a line to draw the eye and create the form. Frankly, I find the arrangements artful and, well, refreshing.
Those exceptionally sophisticated and informed folks up in Philadelphia even have a local chapter of Ikebana International. I saw some of the participants spending about 45 minutes on their arrangements, which had already been judged, trying to improve them, gently twisting a twig here, adjusting a flower height there. This is flower arranging for the exceptionally patient.
I spent a good deal of time examining these arrangements before heading off to the vendor section to pick up a couple of "vessels" for my garden flowers. I adore the fact that you don't have to have dozens and dozens of blossoms to make a beautiful arrangement and that you can use other materials–even dead stuff–to an artistic end. Right now, I have a good deal of dead-looking stuff to use in arrangements. While I doubt that I'll ever spend more than 10 minutes on an arrangement of flowers, I do believe I have picked up a trick or two from the Ikebana aficionados.
With that said, here's a little Ikebana walking tour from the Philadelphia Flower Show for you…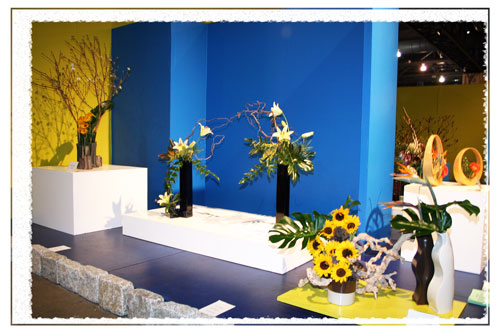 I'm fascinated. What do you think? Is Ikebana for you?
Posted In: Flower Arranging
Tags: Philadelphia Flower Show
February 11th, 2008
I truly hate crowds.
I finish my holiday gift shopping early not because I'm organized but because I can't stand the stores when the masses arrive. You couldn't tie me up and drag me to a parade. Go to a party? Is it a small one?
I make one truly significant exception to battling the throngs—flower shows! If you haven't attended a flower show before, do yourself a favor and make plans. It's a true visual feast where you can get ideas and learn quite a lot in a short amount of time.
I just booked my hotel arrangements for the upcoming Philadelphia Flower Show. If you haven't already made arrangements to attend the show near you, you should do so now. Rooms are going fast in Philly. In fact, I found that I could only get the hotel I wanted by booking through the show's website. All other sources showed the property was unavailable.
The Philadelphia show's early morning two-hour tours are also filling up. You have to email your request to the show organizers for registration information. Groups are small—8 to 12 people—and are held from 8 a.m. to 10 a.m. before the show opens. The cost is $105 per person.
If you're planning a flower show trip and haven't been before, here are some quick tips on getting them most from your flower show experience.
1.  Wear comfortable shoes and a jacket. The showplaces are often cooled for the benefit of preserving the plants, which makes it a bit chilly for the rest of us. Layer for comfort.
2.  Carry a notebook and pen. You can make notes, job down flower and vendor names or even sketch a particularly striking flower layout.
3. Leave the handbag at home. I use a very small shoulder bag with a long strap that I can wear bandolier style. It's just large enough to hold cash, credit cards, keys, a phone, small notebook and pen. It doesn't add uncomfortable weight on my shoulder and allows me to keep my hands free.
4. Check out the show's photography policy in advance. Most shows allow amateur photography without previous permission. All shows prohibit the use of tripods or other equipment that can get in the way of heavy foot traffic.
5. Check show schedules in advance for special demonstration and lecture times. Many shows have a first-come-first-serve seating policy, so arrive early.
6. Plan your meals in advance. Food at these shows is usually hard to find, bad for you and disgusting. Eat a hearty breakfast and carry a bag of nuts. Or make a small, healthy sandwich that you can eat in the snack area while the rest of the folks are eating hot dogs and chips.
7. If you're going with a friend, carry cell phones so you can find each other when you decide to go separate ways or accidentally lose site of each other. Bring money and a big car, truck or van. Most shows have areas for shopping. Unless you're particularly disciplined, you'll go home with an armload.
Have fun and post pictures! I can't go to all the shows. Someday my dream is to go to the Chelsea Flower Show. It's on my bucket list!
Upcoming Flower Shows
March 2 – 8 – Philadelphia Flower Show. The lecture and demonstration schedule is here.
March 8 – 16 – New England Spring Flower Show, Boston
February 20 – 24 – Northwest Flower & Garden Show, Seattle
March 8 – 16 – Chicagoland Flower & Garden Show, Rosemont, IL
March 12 – 16 – San Francisco Flower & Garden Show
March 14 – 24 – Hong Kong Flower Show
May 20 – 24 – RHS Chelsea Flower Show
Posted In: Container Gardening, Gardening, Travel
Tags: Blogging, flower show, garden show, Philadelphia Flower Show