January 1st, 2012
Do you ever wander through the grocery store, pick up a package of prepared food and think to yourself, "I can make that?"
I'm not talking about some pathetic box of pre-made pancakes or a frozen Lean Cuisine. I'm talking about pantry staples, such as…well, such as crackers!
At my local grocery store the cracker selection is, shall we say, minimalistic. There are the saltines, the Ritzes, the Triscuits. Beside them are a host of scary cracker combinations with ingredient lists that read like a foreign phone book.  A gal with my taste for a crispy, savory, crackery treat is much disappointed.
The offerings at places such as Whole Foods are better. In fact, my favorite store-bought cracker is Dr. Kracker. I'm in love with Dr. Kracker. (Don't tell my husband.) The crackers I'm talking about are cellophane-wrapped in bundles of about eight crackers, heavy on the pumpkin seeds and cheese. I dream about these crackers. I will make these crackers someday because, much as I love him, it takes me an hour to get my Kracker fix. See, I live in the country and the nearest Whole Foods is an hour away.
I'm on a quest to make the perfect cracker. I have read approximately 50 cracker recipes to understand cracker psychology. Yeast or no yeast? Cheese or no cheese? Seeds? Definitely.
Do you like nigella seeds? No, they have nothing to do with that beautiful, buxom bombshell on the Food Network. I'm talking about the little triangle-shaped seeds used in Indian cooking. What? You don't have them available at your local Piggly Wiggly? I don't either. So I buy them from Penzy's.
This recipe is based on a recipe from Robert Sinskey Vineyards. These crackers combine these wonderful, black, smokey nigella seeds with poppy seeds. And what's a cracker without cheese, right? Throw some right in.
Cracker making isn't nearly as difficult as you might think. Set aside a couple of hours. Make yourself a nice glass of cinnamon iced tea. Turn on some music or an audio book and work away. Heck, you can even take a leisurely nap while the dough is rising. So give these Peppery Cheesy Crackers with Nigella and Poppy Seeds a whirl.
Hand-Crafted Peppery Cheesy Crackers with Nigella and Poppy Seeds
These crackers are wonderful with a roasted rustic tomato soup. They are also hearty enough to pair with an artichoke dip, baba ganouch or hummus. 
1 cup warm water 1 tablespoon yeast 3 1/2 cups unbleached white flour 1 cup grated cheese, such as cheddar, monterey jack or combination 2 teaspoons nigella seeds 1 teaspoon poppy seeds 1 teaspoon sesame seeds 1/4 teaspoon pepper 4 tablespoons unsalted butter, softened at room temp olive oil coarse-grained salt corn meal
1. Mix warm water and yeast in a small bowl and set aside for 5 minutes.
2. Mix flour into a stand mixing bowl equipped with a dough hook. Mix in yeast and water combination at low speed until the dough forms into a shaggy dough.
3. Add cheese, seeds and soft butter and pepper and continue kneading until the dough is a fairly cohesive, but not tight ball–about 5 minutes.
4. Gather dough into a ball with your hands and place into a large, very lightly oiled bowl. Place the bowl in a warm place and cover with a towel. Because our house is fairly cool in the fall and winter, I often use a heating pad set on medium. Let rise for about 90 minutes.
5.  Preheat oven to 375 degrees.
6.  Punch dough down. Divide into three working sections. Taking one section, roll it into a ball. Then, using a rolling pin, roll it out until fairly thin and about 10 – 12″ x 10 – 12″. There is no need to flour the work surface. Turn the dough over a couple of times to get an even sheet. Using a knife or decorative pastry cutter, trim the rolled-out sheet's edges so you have a rectangle or square. Cut the rectangle/square into sections about three inches square.  Gently transfer the pieces onto a baking sheet dusted lightly with corn meal. Brush lightly with olive oil and sprinkle with salt.
7.  Bake the crackers for 8 to 10 minutes, flip and bake for another 8 to 10 minutes. The crackers should be golden brown and crisp. If not, cook until they are.
8.  Cool crackers on a rack and proceed to work the remaining two pieces of dough in the same fashion.
9. Cool completely before storing in an air tight container.
10. Eat.
Posted In: Food and Recipes
Tags: Baking, crackers, nigella seeds
December 21st, 2008
Family dinners have always been an important part of my life. Family dinners with cake, especially, have always been an important part of my life. And the best dinners are those featuring oatmeal cake with coconut topping.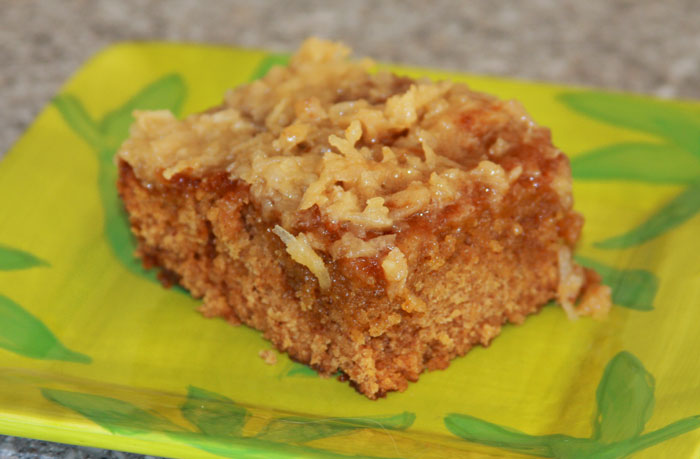 I remember as a kid my parents, brothers and I used to head over to my grandparents' house for Sunday dinner after church. All my aunts, uncles and numerous cousins would gather to tell outrageous stories, build and fix things (my family is always building and fixing things) while my grandmother cooked a traditional Southern dinner and my grandfather escaped to the garden to tend his roses.
My grandmother's dinners never had fewer than, say, 15 bowls and heaping plates on the table—fried chicken, collard greens, mashed potatoes and gravy, oniony cole slaw, lima beans, angel biscuits, salty Virginia ham, green beans. And the desserts. Oh, the desserts!
We would eat in shifts because there wasn't enough room at the table for everyone. Afterwords, the women (no, never the men) would pitch in and clean the kitchen.
I remember one Sunday my Aunt Margaret had finished up in the kitchen and decided to mop and wax my grandmother's floor. I watched on, chatting, as she put the finishing touches and finally managed to wax her way into a corner.
"Oh no! Here I am in this corner and the floor's all wet. I guess I'll just stand here until it's dry," she declared.
"No! You can just walk out and wax over your footsteps," I said, my five-year-old self proud of coming up with the solution.
Of course, my Aunt Margaret was always the kidder and had let me come up with the solution. Still, it's a fond memory—well, that and the cake.
My husband loves this cake so much he nearly dances when he realizes that I have made one. And he keeps saying—over and over again—"Have I mentioned how much I love this cake?"
Now, if this chocolate-loving gal says that she loves an oatmeal cake, you can take it to the bank that this is a good cake. And it's one of those amazing cakes that only get better with time.
So make it now and make someone happy.
Oatmeal Cake with Coconut Topping 1 1/4 cup boiling water 1 cup old fashioned oats 8 tablespoons (1 stick) butter 1 cup white sugar 1 cup brown sugar 2 eggs 1 teaspoon baking soda 1 teaspoon cinnamon 1 1/3 cups flour pinch of salt
Preheat oven to 350 degrees. Pour boiling water over oats and let stand for 15 minutes. In a mixer, cream together butter, white and brown sugars. Add eggs. In a separate bowl, mix together baking soda, cinnamon, flour and salt. Gradually add the flour mixture to the sugar, butter and egg mixture until well blended. Stir in the oatmeal/water mixture until well combined. Pour into a 9 x 13″ baking pan. (I use a Pyrex baking pan.) Bake at 350 degrees for 35 minutes or until a knife inserted into the middle comes out clean. Top with topping after the cake cools for about 10 to 15 minutes.
Coconut Topping 8 tablespoons (1 stick) butter (brought to room temperature) 1 cup brown sugar 1 1/2 cups fresh grated coconut 1 teaspoon vanilla 1/8 to 1/4 cup milk
Blend all the ingredients together until well mixed. Pour over warm (but not hot) cake and spread evenly.
___________________
By the way, if you haven't voted on a chicken name for The Chicken Formerly Known as Minnie Ruth, please do so now.  I really don't want to name this chicken Johnny.
Posted In: Food and Recipes
Tags: Baking, cake, desserts, Family, Recipes