December 21st, 2008
Family dinners have always been an important part of my life. Family dinners with cake, especially, have always been an important part of my life. And the best dinners are those featuring oatmeal cake with coconut topping.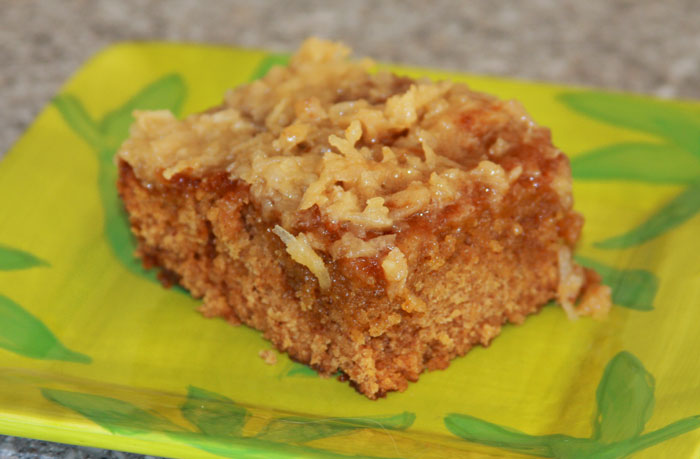 I remember as a kid my parents, brothers and I used to head over to my grandparents' house for Sunday dinner after church. All my aunts, uncles and numerous cousins would gather to tell outrageous stories, build and fix things (my family is always building and fixing things) while my grandmother cooked a traditional Southern dinner and my grandfather escaped to the garden to tend his roses.
My grandmother's dinners never had fewer than, say, 15 bowls and heaping plates on the table—fried chicken, collard greens, mashed potatoes and gravy, oniony cole slaw, lima beans, angel biscuits, salty Virginia ham, green beans. And the desserts. Oh, the desserts!
We would eat in shifts because there wasn't enough room at the table for everyone. Afterwords, the women (no, never the men) would pitch in and clean the kitchen.
I remember one Sunday my Aunt Margaret had finished up in the kitchen and decided to mop and wax my grandmother's floor. I watched on, chatting, as she put the finishing touches and finally managed to wax her way into a corner.
"Oh no! Here I am in this corner and the floor's all wet. I guess I'll just stand here until it's dry," she declared.
"No! You can just walk out and wax over your footsteps," I said, my five-year-old self proud of coming up with the solution.
Of course, my Aunt Margaret was always the kidder and had let me come up with the solution. Still, it's a fond memory—well, that and the cake.
My husband loves this cake so much he nearly dances when he realizes that I have made one. And he keeps saying—over and over again—"Have I mentioned how much I love this cake?"
Now, if this chocolate-loving gal says that she loves an oatmeal cake, you can take it to the bank that this is a good cake. And it's one of those amazing cakes that only get better with time.
So make it now and make someone happy.
Oatmeal Cake with Coconut Topping 1 1/4 cup boiling water 1 cup old fashioned oats 8 tablespoons (1 stick) butter 1 cup white sugar 1 cup brown sugar 2 eggs 1 teaspoon baking soda 1 teaspoon cinnamon 1 1/3 cups flour pinch of salt
Preheat oven to 350 degrees. Pour boiling water over oats and let stand for 15 minutes. In a mixer, cream together butter, white and brown sugars. Add eggs. In a separate bowl, mix together baking soda, cinnamon, flour and salt. Gradually add the flour mixture to the sugar, butter and egg mixture until well blended. Stir in the oatmeal/water mixture until well combined. Pour into a 9 x 13″ baking pan. (I use a Pyrex baking pan.) Bake at 350 degrees for 35 minutes or until a knife inserted into the middle comes out clean. Top with topping after the cake cools for about 10 to 15 minutes.
Coconut Topping 8 tablespoons (1 stick) butter (brought to room temperature) 1 cup brown sugar 1 1/2 cups fresh grated coconut 1 teaspoon vanilla 1/8 to 1/4 cup milk
Blend all the ingredients together until well mixed. Pour over warm (but not hot) cake and spread evenly.
___________________
By the way, if you haven't voted on a chicken name for The Chicken Formerly Known as Minnie Ruth, please do so now.  I really don't want to name this chicken Johnny.
Posted In: Food and Recipes
Tags: Baking, cake, desserts, Family, Recipes
October 25th, 2008
When I was a kid, my mom would make the same things over and over for dinner. I know there wasn't a lot of money to throw around on fancy ingredients. And my dad was a beef and potatoes kind of fellow. But Mom came up with some pretty wacky food combinations. Hot dogs in Ragu over white rice anyone? And, as I recall, there was a good deal of hamburger and the occasional Spam meal.
Frankly, now that I am the head chef Chez Bumblebee I can empathize with her frustration cooking seven nights a week for a crowd with widely varied ideas about what constitutes a good meal.
But where my mom became truly inspired was in cooking desserts. We had big glass jars in the kitchen that Mom kept filled with cookies and sweet bars. There was always at least one cake, and often two, made from scratch. I don't believe the sun ever went down on a day when I didn't have a delicious homemade treat.
One of my favorite cakes was a fabulously rich Buttermilk Chocolate Chip Cake. We just called it Yum Yum Cake.
I loved the cake so much that before I went off to college I copied down the recipe—along with several of my other favorite cake recipes—on notebook paper. This yellowed notebook page is still in my recipe binder and now I regularly make this cake for my own family.
If you've never made a cake from scratch, this is a perfect one to try. Once you get the hang of baking cakes you'll never want to buy store-bought again.
Cake Ingredients
1 cup sugar 1/2 cup butter (1 stick) 2 cups flour 1 1/2 teaspoons baking powder 1/4 teaspoon baking soda 1/4 teaspoon salt 1 teaspoon vanilla 1 egg 3/4 cup buttermilk 1 cup miniature marshmallows 1/2 cup semi-sweet chocolate chips
Cream together sugar and butter with a mixer. Mix flour, baking powder, soda and salt in a bowl. Add egg, vanilla and buttermilk to the sugar and butter mixture. Gradually add the dry ingredients and mix until well combined. Fold in marshmallows and chocolate chips by hand.
Spread batter into a well buttered 9″ x 13″ x 2″ baking pan. (I use a glass one.) The batter will be extremely thick.
Cook in a pre-heated 350 degree oven for 40 to 45 minutes or until a knife inserted comes out clean.
Cool for about 10 to 15 minutes before topping.
Topping Ingredients
1 cup sugar 1/3 can evaporated milk 1/2 cup butter (1 stick) 6 ounces chocolate chips
Bring sugar, milk and butter to a boil. Remove from heat, add chips and stir until melted.
Bon appetit!
Posted In: Food and Recipes
Tags: Baking, cake, chocolate, Family, Recipes