August 8th, 2013
One of the many joys of gardening is that you get to experiment, explore and take risks. Often the cost is no more than a couple of dollars—the price of a package of seeds. This is the frugal side of gardening. (I can also show you the exceptionally non-frugal side of gardening, but that, my friends, is a story for another blog post.) One of this year's experiments in my garden was the cup and saucer vine (Cobea scandens).
I don't recall if this is one of the seed packages I purchased or if it was included in a freebie package from Botanical Interests, one of my favorite seed companies. It seems like something I would order because the description promised this vine would 1) be a quick growing, 2) grow up to 25 feet in a single season 3) have flowers that open pale green and mature to ivory or deep purple and 4) have a sweet scent.
Apparently the only thing this vine doesn't do is grow hundred dollar bills on every other vine.
I like the idea of a quick-growing, decorative vine as part of creating summer shade over the chicken run. The chickens have a covered porch that allows them to get out of the rain or to shelter from the blazing sun. But in the summer some dappled shade over the rest of the run would improve the comfort factor in the rest of the run as well as shade their water cooler.
So how did the cup and saucer vine perform?
I'm thinking of starting my own rating system. For now, let's base the rating system on stars. I'll fancy up the idea later.
What should my personal rating system include? An overall rating, certainly. Beauty? Yes, I do think beauty is important. Pest/disease resistance in my garden? Yes indeed, that seems like a good idea too. I am over having powdery mildew on lilacs and Japanese beetles on pole beans. Toxicity/safety? This might not be important to some gardeners, but it is important to me if I'm going to grow it over the chicken coop. I found a handy list of toxic/non-toxic plants assembled by the California Poison Control System. The cup and saucer vine is, apparently, non-toxic—at least to humans. I didn't find it listed as toxic to chickens anywhere else on the Internet. And in my bold experiment here it is, apparently, non-toxic since the chickens have kept the lower parts of the vines pecked clean of leaves and flowers.
What else? Scent? Usefulness? Edibility? Okay, we'll go with that for now.
So, here is my rating for the cup and saucer plant on a four-star (for now) rating system.
***    Beauty – The flowers certainly are beautiful, although they are somewhat subtle. This is not a vine that will draw your eye from a distance as some clematis do, for example.
**** Pest/disease resistance – No complaints here. The Japanese beetles are completely uninterested. The vine doesn't show any signs of disease or other problems this year.
**** Safety/non-toxicity – Courtesy of the California Poison Control System and my own bold experiment.
**      Scent – The flowers do have a mildly sweet scent, but you need to stick your nose right into it to smell it.
**** Usefulness – This is a work horse-type vine because it grows so quickly, providing a nice screen where needed in the summer heat.
*        Edibility – You can't eat it (I don't think). Well, you can't have everything.
**** Overall – A grand four-star rating.
The bigger question might be, would I grow the cup and saucer vine again? Yes! And I would also recommend it to other gardeners. It's an easy, robust and pleasing vine. All for the cost of a package of seeds.
Posted In: Chickens, Flowers, Gardening
Tags: chicken coop, cup and saucer vine, seeds
July 22nd, 2012
I love my pet chickens. I don't always love what they do to my garden.
If you have visited here before, you may know that I'm in the habit of letting the chickens go on walkabout for a few hours in the late afternoon and early evening. This is the time of day they have finished their egg laying chores and are ready for a little bit of exercise and fresh air. Generally, I'm either outside nearby or have the windows open so that I can hear the distinctive alarm that means "Warning! Warning!"
But I can't always keep an eye on all the hens. They amble here, run there and generally take in the whole front and back yard scampering after bugs, worms, snakes and salamanders. Rarely do they travel in  one large pack. They usually amble around in twosies and threesies. Tina Turner is usually off in her own la-la land.
The fence around the potager keeps them out of trouble there. But they can play heck with the rest of the place with their determined scratching, scratching, scratching for bugs. And the Number One Rule of Chicken Foraging is:  Dig up anything Robin just planted.
The last straw was when they absolutely destroyed a beautiful new Heuchera 'Mysteria' . It was a gorgeous burgundy and pink in full bloom. They scratched it out of existence. Baaaaad chickens!
So, for one of the Lowe's Creative Ideas projects I decided to build some cloches to protect the newly planted. Lowe's provided a $100 gift card and let me loose to make something under the heading of "Furniture Fun."
Now, let me state right up front that I have exactly ZERO experience doing woodworking projects. I have no woodworking power tools except for a drill. I had no pattern to follow. I just had an idea. So, here's what I came up with.
Don't laugh too hard. And don't send me links of your own gorgeous woodworking projects to make me feel even more inept. I don't think it's bad at all for someone who never did her own woodworking project in her life. And it works!
For the project, I used the following materials and tools:
– Strips of craft wood – Chicken wire – L-brackets of two different sizes—big and less big (I think those are the technical terms) – Power stapler – Wire cutters – Screws – Screwdriver – Metal joint tacks – Hand saw – Hammer – White outdoor deck stain – Paint brush – Sanding pad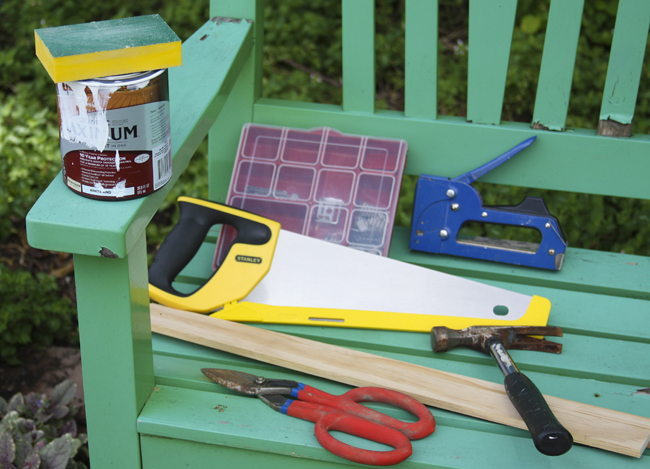 I cut strips of the wood and assembled them into squares. I used joint tacks to hold them together and then stapled squares of the chicken wire. I topped that assemblage with another assembled wood square. I attached the squares together using L-brackets and then painted the whole contraption—I mean cloche.
I will be making more cloches of different sizes. For the next cloche I will paint the wood strips before assembling the squares so that the naked wood isn't showing between the sandwiched-together squares. It will also help to protect the cloche out in the rain. I think I'll also investigate some of the classes that Lowe's offers from time to time to see if I can get some real help learning more woodworking skills.
My first Lowe's Creative Ideas project—a concrete planter—is here.
Check back here throughout the next few months, because there are more projects, giveaways and other bloggers' projects to explore.
Lowe's has some pretty cool Pinterest boards too. Go check them out.
Posted In: Chickens, DIY, Gardening
Tags: Blogging