September 25th, 2009
It is a season of changes.  Not only is the weather cooling, life is changing here.
Benjamin, my only child (my baby!), has gone off to college at The Citadel.  He is the third generation on his dad's side to attend college there. When he graduates, he will wear "The Ring" with his dad, uncles, great uncles and cousins. He knew what to expect going there. He is well-prepared for the challenge. And he seems to thrive on the manly camaraderie of the place.
That still didn't stop me from crying for pretty much the first week while he was gone. The tears were drawn from a combination of missing him, worrying about him and being disoriented by the new direction of my life as an empty-nester.
I have stopped crying now, but am still trying to navigate a life with a 50% reduction in the number of men I need to take care of on a daily basis.
In other changes, Harry has left private practice and gone back to work for the government. The book I was co-writing this summer, Grocery Gardening, is finally off my desk. The six new baby chicks will be laying in about another month–leaving us with 10 – 12 eggs a day to dispose of. And I have major new work and writing assignments to keep me busy.
Oh, the garden?
I can't say this has been my most productive or meticulous garden year. There were so many distractions and challenges that kept me out of the garden. Still, Mother Nature was forgiving for just this year. The work from past years has paid off, as perennials continued to bloom, flowers to re-seed and the overall bones of the raised beds, fences and arbor to hold it all together. I don't think I can continue this type of neglect next year and still hold my head up as a gardener though.
Now, as weather cools and all these darned changes slow down just long enough for me to catch my breath, I am enjoying being out in the garden, putting in fall vegetables and tidying up for the winter to come.
I'm actually looking forward to winter now. I have a fancy new cold frame to put together this weekend. I'm setting up the light garden in the basement to grow microgreens. Cooking projects, sewing projects, writing projects and, of course, visits to The Citadel and Ben's visits home are going to keep me busy.
Overall, I'm still living the good life. It's a life of transitions, but it's a good life.
(You can click on an image for a larger version of the photo.)
Posted In: Gardening, Lifestyle
Tags: amaranthe, Blogging, fall, Family, garlic chives, Grocery Gardening, hakuro nashiki willow, lettuce, malabar spinach, pineapple sage, scarlet runner beans, sweet autumn clematis, The citadel
December 21st, 2008
Family dinners have always been an important part of my life. Family dinners with cake, especially, have always been an important part of my life. And the best dinners are those featuring oatmeal cake with coconut topping.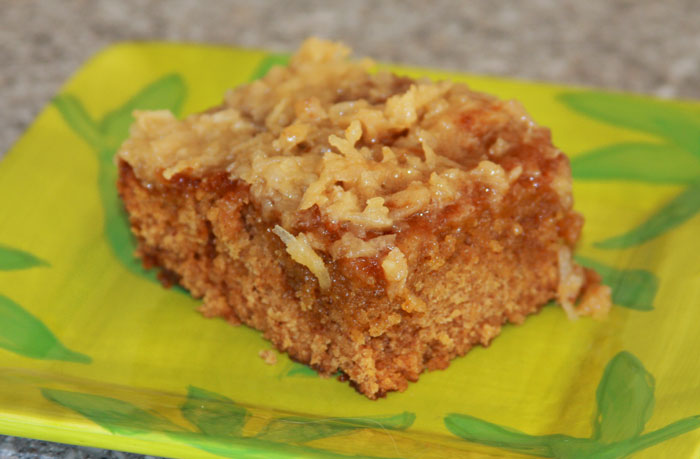 I remember as a kid my parents, brothers and I used to head over to my grandparents' house for Sunday dinner after church. All my aunts, uncles and numerous cousins would gather to tell outrageous stories, build and fix things (my family is always building and fixing things) while my grandmother cooked a traditional Southern dinner and my grandfather escaped to the garden to tend his roses.
My grandmother's dinners never had fewer than, say, 15 bowls and heaping plates on the table—fried chicken, collard greens, mashed potatoes and gravy, oniony cole slaw, lima beans, angel biscuits, salty Virginia ham, green beans. And the desserts. Oh, the desserts!
We would eat in shifts because there wasn't enough room at the table for everyone. Afterwords, the women (no, never the men) would pitch in and clean the kitchen.
I remember one Sunday my Aunt Margaret had finished up in the kitchen and decided to mop and wax my grandmother's floor. I watched on, chatting, as she put the finishing touches and finally managed to wax her way into a corner.
"Oh no! Here I am in this corner and the floor's all wet. I guess I'll just stand here until it's dry," she declared.
"No! You can just walk out and wax over your footsteps," I said, my five-year-old self proud of coming up with the solution.
Of course, my Aunt Margaret was always the kidder and had let me come up with the solution. Still, it's a fond memory—well, that and the cake.
My husband loves this cake so much he nearly dances when he realizes that I have made one. And he keeps saying—over and over again—"Have I mentioned how much I love this cake?"
Now, if this chocolate-loving gal says that she loves an oatmeal cake, you can take it to the bank that this is a good cake. And it's one of those amazing cakes that only get better with time.
So make it now and make someone happy.
Oatmeal Cake with Coconut Topping 1 1/4 cup boiling water 1 cup old fashioned oats 8 tablespoons (1 stick) butter 1 cup white sugar 1 cup brown sugar 2 eggs 1 teaspoon baking soda 1 teaspoon cinnamon 1 1/3 cups flour pinch of salt
Preheat oven to 350 degrees. Pour boiling water over oats and let stand for 15 minutes. In a mixer, cream together butter, white and brown sugars. Add eggs. In a separate bowl, mix together baking soda, cinnamon, flour and salt. Gradually add the flour mixture to the sugar, butter and egg mixture until well blended. Stir in the oatmeal/water mixture until well combined. Pour into a 9 x 13″ baking pan. (I use a Pyrex baking pan.) Bake at 350 degrees for 35 minutes or until a knife inserted into the middle comes out clean. Top with topping after the cake cools for about 10 to 15 minutes.
Coconut Topping 8 tablespoons (1 stick) butter (brought to room temperature) 1 cup brown sugar 1 1/2 cups fresh grated coconut 1 teaspoon vanilla 1/8 to 1/4 cup milk
Blend all the ingredients together until well mixed. Pour over warm (but not hot) cake and spread evenly.
___________________
By the way, if you haven't voted on a chicken name for The Chicken Formerly Known as Minnie Ruth, please do so now.  I really don't want to name this chicken Johnny.
Posted In: Food and Recipes
Tags: Baking, cake, desserts, Family, Recipes