September 25th, 2014
Well, hello there! Did you notice I was gone? Did you miss me? I missed you.
Truly, I didn't set out to take nearly a full year off from blogging here at Bumblebee. Sometimes, life just gets in the way. Sometimes you have to make a choice between living life or writing about it. Not that living and writing are mutually exclusive, of course. I recognize that. Heck, all those Mount Everest climbers, round-the-world sailors, Appalachian Trail hikers, North Pole explorers and English Channel swimmers are certainly prolific about cranking out the books. I bet some of them even blog more than once a year.
It's just that I was writing other things, particularly for work. But I did write also write a book. Yes, it's finally out! Wisdom for Home Preservers was released at the beginning of this month.
I sneaked into Barnes & Noble the other day and took a selfie with the only copy they had on their store shelf. I suppose they had sold the dozens of other copies they had stocked because they really did have only one copy. Just one!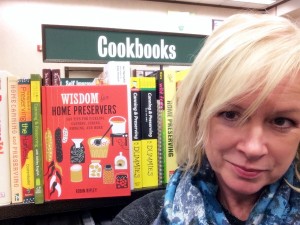 Let that be a lesson to you. You must run right out and buy a copy before they are all gone!
The book includes 500 (500!) tips about canning, freezing, curing, smoking, root cellaring and more. It's an easy read and the specially commissioned linocut prints by printmaker Melvyn Evans provide a nice retro vibe to this tidy little hardback book.
I'll be back soon writing about the life I'm living. It's not Channel swimming or polar exploration though. Just more country life.
Posted In: Blogging, Books, Canning and Preserving
Tags: Wisdom for Home Preservers