Those Austin folks sure know how to show hospitality!
Pam (Digging), MSS (Zanthan Gardens), Diana (Sharing Nature's Garden) and Bonnie (Kiss of Sun) hosted nearly 40 garden bloggers from 12 states at the Garden Bloggers Spring Fling. They spent months organizing tours of public and private gardens, soliciting prizes and gifts for welcome packages and communicating all the details about the event. They even offered their guest rooms and drove us all around Austin from garden to nursery to restaurant. I can't imagine how many hours went into planning this event for a bunch of virtual strangers.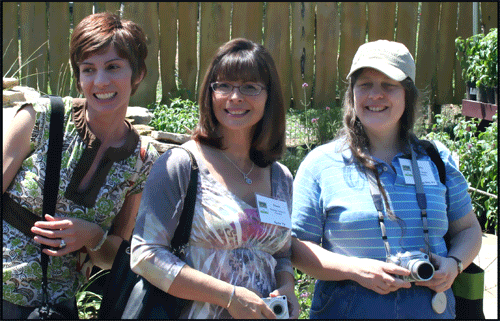 Laura (Greenfish Artist and Gardener), Diana (Sharing Nature's Garden) and Kathy (Cold Climate Gardening)
Pam told me that when they first thought of the idea the big question was, "Do you think anyone would come?" Well, it seems to me that the question for next year's organizing team should be "How will we deal with all the people who will come?" Because I can guarantee that come hell or high water I'll be there. And after all the photos that I and the other garen bloggers will be showing you over the next few days, you'll want to start a garden blog (if you don't have one) so you can join us.
You know, I almost didn't go? But when Kathy at Cold Climate Gardening mentioned in an email (yes, bloggers communicate off-blog too) that she was going, I couldn't pass up the chance to meet her and so many of the other people I feel like I have come to know, just a bit.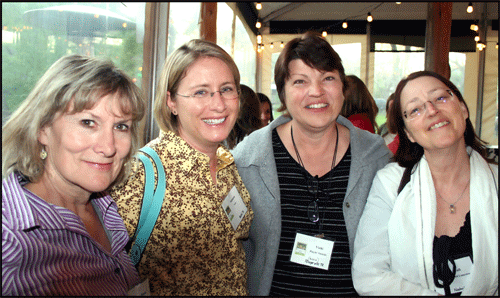 Susan (Garden Rant), Suzanne (Verte), Vicki (Playin' Outside) and Gail (Clay and Limestone)
Still, heading into this event I felt like I was going on a blind date–with 40 people. Would I have to talk about plants in their Latin names the whole time? What if someone asked me a gardening question and I couldn't answer?
Well, I needn't have worried. And, really, I did already "virtually" know some of the folks.
Among those folks that I "virtually" knew, I "actually" met Laura, from Greenfish Artist and Gardener. I had purchased three fabulous watercolors from Laura's Etsy store and learned we share a love of tea.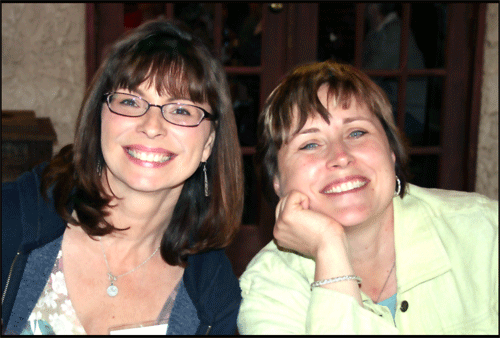 Diana and Dee (Red Dirt Ramblings)
I also met Dee from Red Dirt Ramblings. I remember when Dee started her blog and have always admired her country home.
There was also Elizabeth and Susan (another Maryland gardener!) from Garden Rant, one of my favorite blogs because of its provocative posts.
And, of course, I met Kathy, who reminded me to go, and also Carol from May Dreams Gardens. I was grateful that Carol didn't seem to think I am a raving lunatic for leaving a huffy post about the responsibility of owning a dog in response to her comparing getting a tree to getting a puppy. Or maybe she did think I'm a raving lunatic, but she's just too nice to let it show. (Now that I think about it, she did mention it.)
So what are garden bloggers like? Well, as it turns out, all the women are strong, all the men are good looking, and all our gardens (and children) are above average.
Thanks again to all my new friends from Spring Fling!