May 30th, 2012
I am a fool for heavy pots—I mean con­tain­ers. Clay pots, iron pots, wooden pots, con­crete pots. I like pots that won't blow away in the wind and that make you think twice about rear­rang­ing the gar­den furniture.
So dur­ing this, My DIY Sum­mer*, I vowed to begin my quest with my new-found fas­ci­na­tion with con­crete to try my hand at mak­ing some heavy pots. Thank good­ness Lowe's asked me to join their Lowe's Cre­ative Ideas blog­gers group so I would have a dead­line and a Lowe's gift card as an incen­tive. You should check back here through­out the next few months, because there are more projects, give­aways and other blog­gers' projects to explore.
This rus­tic, but dec­o­ra­tive, con­tainer fits right in with my gar­den decor. I found all the mate­ri­als I didn't already have on-hand at Lowe's. The actual work time would, I would esti­mate, be about one hour. And the beauty of this project is that I now have the mate­ri­als on-hand for other con­crete projects. (I already have some started, so stay tuned for that.) Here's how I did it.
Step 1. Assem­ble your sup­plies. Nearly all of these sup­plies can be pur­chased at Lowe's. I give you the prices I paid below. My local Lowe's gives mil­i­tary fam­i­lies a 10% dis­count, so bring your ID and make sure to ask.
Mate­ri­als you will need include:
- Plas­tic stor­age con­tain­ers or other con­tain­ers to serve as inner and outer forms. Make sure there is about 1.5″ — 3″ between all the walls so there is enough con­crete for strength. If you're super-handy, you can build forms. I kept it sim­ple for this maiden voy­age into the world of con­crete. ($13.72)
- Con­crete mix (quan­tity depends on the size of the con­tainer) ($4.64)
- Oil (on-hand—from the kitchen)
- Water
- Chicken wire or other wire to rein­force the con­crete cut to fit slightly smaller than each of the sides and bot­tom (on-hand)
- Wire cut­ters (on-hand)
- Mix­ing bucket (pur­chased pre­vi­ously — on-hand)
- Mix­ing tools (I used an old hoe and hand trowel)
- Safety mask ($2.53)
- Gloves ($6.80)
- Corks or other mate­r­ial to make drainage holes (I made a sac­ri­fice and drank some wine. But only for the corks.)
- Dec­o­ra­tive rocks ($6.84)
- Plants ($11.56)
- Pot­ting mix (on-hand)
- Twigs (on-hand)
- A bit of twine, wire or string (on-hand)
Total cost for out-of-pocket mate­ri­als I didn't have on-hand:  $46.09. The real beauty is that I now have some of the mate­ri­als to make other con­crete projects. Stay tuned on that.
Step 2. Don your fetch­ing safety mask and gloves before you even open the bag of con­crete mix. Con­crete is amaz­ingly dusty and you don't want to inhale this stuff into your lungs. If you get it on your skin, it is very caus­tic. Wash imme­di­ately and rinse with vine­gar. Just wear gloves, okay?
Put the con­crete in one area of your mix­ing con­tainer and the min­i­mum amount of water called for on the con­crete mix in the other. Grad­u­ally pull the dry con­crete mix into the water, mix­ing thor­oughly and knead­ing it with the tool. You want to mix it very thor­oughly and not have any dry mix lin­ger­ing at the bot­tom of your con­tainer or at the edges. Add water, as needed, but do not add more water than nec­es­sary to make a soft, clay-like mix. Too much water will make your con­crete project sus­cep­ti­ble to crack­ing and breaking.
Step 3. Oil the inside of your outer mold and the out­side of your inner mold—the places where the con­crete will touch. Start with a bit of con­crete on the bot­tom of the outer con­tainer, cov­er­ing the bot­tom and tamp­ing down firmly to get good coverage.
Step 4. Add your chicken wire or other rein­forc­ing mate­r­ial. Oil your corks or other drainage hole mate­ri­als and insert them through the con­crete. Make sure you clear the space below so you don't have a con­crete layer obscur­ing the hole. Add more con­crete to cover the rein­forc­ing wire and secure the corks.
 Step 5. Put the inner mold into place. Add the rein­forc­ing wire on all sides and begin adding the con­crete mix on both sides. Keep pack­ing it in and pack­ing it down thoroughly.
Step 6. Smooth out the top of the form. If you are adding dec­o­ra­tive rocks, wedge them into the con­crete mix and secure them in place. Wipe the rocks clean with a wet paper towel.  Once that is done, walk away for two days.
Step 7.   After two days, invert the con­tainer forms to remove your brand new plant­ing con­tainer. Let is sit for another cou­ple of days, spritz­ing it with water from time to time so it doesn't dry out too quickly, mak­ing it more prone to crack­ing. Clean up the dec­o­ra­tive rocks again with a moist cloth.
Step 8. Remove the corks and ensure your drainage holes are large and unobscured.
Step 9. Add your plants. I planted a Stars & Stripes Man­dev­illa vine—which seemed appro­pri­ate head­ing into the Memo­r­ial Day weekend—and a few petu­nias. The Man­dev­ille vine will grow up to cover the tepee, with blooms all sum­mer long.
Step 10. Cre­ate a tepee with the twigs, secur­ing it at the top with twine, string or wire. Voila!
Lowe's has some pretty cool Pin­ter­est boards too. Go check them out.
*My DIY Sum­mer was inspired by three forces: 1) A whole slew of new books about gar­den projects 2) The fact that my son is in col­lege and tuition is expen­sive and 3) I still have expen­sive tastes, despite the fact that I am pay­ing col­lege tuition.
Posted In: Container Gardening, DIY, Gardening
Tags: Blogging, concrete planter, Lowe's Creative Ideas, My DIY Summer
April 30th, 2012
A few years ago my then-teenage son con­vinced me to watch the movie Snakes on a Plane. It's a movie about—you guessed it—snakes on a plane. Despite the fact that it was an incred­i­bly stu­pid film, it gave me night­mares. But movie snakes don't hold a can­dle to real, live snakes right at home.
This week­end I asked my hus­band to dis­pose of two ratty-looking top­i­ary trees that were in large wooden con­tain­ers on either side of the garage door. I watched from the kitchen win­dow as he dragged them back to the com­post pile. They were over­grown and pot-bound, so I wasn't sur­prised when he tugged and pulled to try and extri­cate them from the con­tain­ers. This went on for some time. I con­tin­ued to watch as he stood with his hands on his hips think­ing about the sit­u­a­tion. Appar­ently reach­ing  a con­clu­sion, I saw him start in on the con­tain­ers with a mattock.
And then I watched as he hot-footed it back to the house.
"Those pots are filled with copperheads!"
Now, I didn't go out to wit­ness it first-hand. It's not because I'm a big old scaredey cat. Oh, no. Rather it's because I have com­plete trust in my husband's pow­ers of obser­va­tion and report­ing of the local wildlife. I mean, if he says cop­per­heads are out there swarm­ing by the dozens, I don't really need to go out and ver­ify it with my own eyes, right? A mar­riage must be based on trust.
I hope it didn't vio­late any Mary­land state wildlife laws, because I'm going to tell you right here that Harry screwed up his manly courage, went back out and com­mit­ted mass snake-icide. He was run­ning around with a shovel smack­ing at the ground, hop­ping around and look­ing very threat­en­ing. I was afraid of him. I think he got most of the lit­tle bug­gers. I got nightmares.
Okay, so that I don't leave you with that hor­ri­ble image I'll share some gar­den pho­tos to calm you down. Let's talk a lit­tle bit about helle­bores, shall we?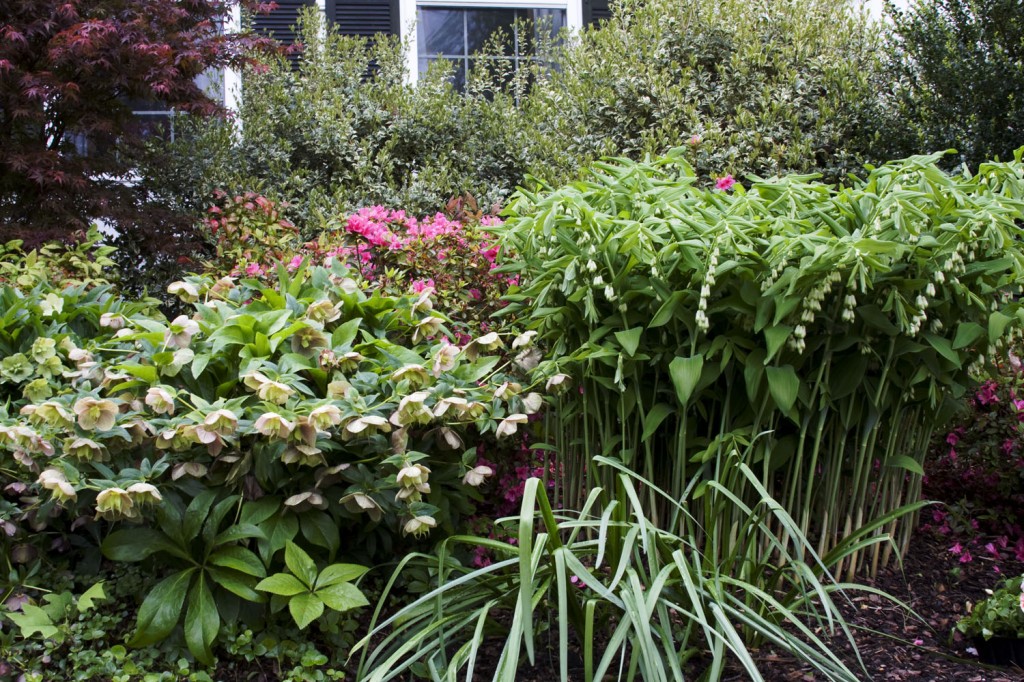 One of the rea­sons I adore helle­bores as much as I do is that they give me hope in the bleak­est months of win­ter. Regard­less of what I do, these babies show their lit­tle heads some­time in Jan­u­ary and grad­u­ally emerge from under what­ever nature has thrown their way. I have seen them emerg­ing from under a foot of snow, in the freez­ing rain and even in those dry win­ter spells.
I help them along by trim­ming off the dam­aged green­ery from the pre­vi­ous year, allow­ing the plant's strength to be con­cen­trated in flow­er­ing. They reward me by bloom­ing and bloom­ing. The flow­ers hang on through spring and even into sum­mer. These are plants that really pull their weight in the garden.
Now that they are well-established I am faced each year with relo­cat­ing or re-homing hun­dreds of lit­tle helle­bore ori­en­talis seedlings. Frankly, it's not a ter­ri­ble task and I always find tak­ers. I'm look­ing for­ward to the time when I have the same issue with the 'Kingston Car­di­nal' helle­bores. Massed together, they make a very nice state­ment while also crowd­ing out weeds and look­ing good almost the whole year long.
Have you for­got­ten all about the snakes yet? Good. What­ever you do, don't think about snakes. Espe­cially don't think about poi­so­nous snakes in the gar­den. Dozens and dozens of swarm­ing poi­so­nous snakes in the garden.
(As always, click on pho­tos to embiggen.)
Posted In: Container Gardening, Gardening, Nature and Wildlife
Tags: copperheads, hellebores, snakes