July 6th, 2015
There is no place like an Eng­lish gar­den. And as a gar­dener, there was no bet­ter way to spend a week away from my own gar­den than vis­it­ing gar­dens in Eng­land. So in June, off I went on—of all things—an orga­nized bus tour.
As a prac­tic­ing semi-hermit, I'm not usu­ally enthu­si­as­tic about orga­nized group activ­i­ties. But an orga­nized bus tour of Eng­lish gar­dens makes a great deal of sense. For one thing, the trip coor­di­na­tor was able to get us an incred­i­bly good deal on a pack­age that included air­fare, hotel, most meals and gar­den entrance fees. Because we were a small group of just 25 peo­ple, she also was able to get us into pri­vate gar­dens that the aver­age tourist would never be able to visit on their own. Trav­el­ing on a lux­ury bus meant we didn't have to sweat the details of direc­tions or sched­ules. And finally, when you travel with other enthu­si­as­tic gar­den­ers there will always be some­one nearby to help iden­tify that splen­did shrub or drop dead gor­geous flower, not to men­tion enjoy a pub lunch or just a lit­tle sit on a well-placed gar­den bench.
Over the course of a week we vis­ited 16 gar­dens, 12 of them pri­vate rather than pub­lic gardens.
The Eng­lish coun­try­side is idyl­lic in the spring and sum­mer. The long agrar­ian tra­di­tion is still evi­dent in the Eng­lish coun­try­side. You still see miles and miles of ver­dant rolling hills sur­rounded by stone walls and dot­ted with idyl­lic sheep, cows and goats. Drive through the small vil­lages and towns and even the most mod­est homes have roses scram­bling up the walls, lov­ingly main­tained win­dow boxes and wildly bloom­ing peren­nial borders.
Old stone walls and older stone houses add to the rugged but beau­ti­ful back­drop for all the exu­ber­ant plant growth. Flow­ers seed and grow in cracks and crevices. Roses scram­ble up the sides of stone fences and gar­den walls. The warm brown color of the stone pro­vides the per­fect pal­let back­drop for both the soft pas­tels or the more flam­boy­ant flowers.
One of the rea­sons Eng­lish gar­dens are so spec­tac­u­larly full of vig­or­ous plants that in some cases are twice the size of their Amer­i­can ver­sions is that the days are incred­i­bly long. Located at about a lat­i­tude of 51, Eng­land sits much far­ther north than, for exam­ple, Anchor­age, Alaska, at 61 degrees lat­i­tude. That means that in the third week of June, sun­rise in West Sus­sex was at 4:50 a.m. and sun­set was at 9:18 p.m. That's more than 16 long hours of day­light for the plants to sun­bathe and grow. Com­pare that to my Mary­land gar­den, which gets a measly 14 hours of sum­mer sun­light. As a prac­ti­cal mat­ter on this trip, it also meant that the sun in Eng­land woke me up at 3:30 a.m. as it began its ascent over the horizon.
Then there is the issue of heat and humid­ity. I know that peo­ple in some more of the more hell­ish parts of the U.S. will scoff at my weather whin­ing, but here in Mary­land the sum­mer days can eas­ily get into the 90s and the humid­ity num­bers hover around that same num­ber. Dare to go out­side in the late after­noon and it is like swim­ming in hot air. While we were in Eng­land, some of the hotel staff and even some gar­den­ers com­plained about the heat. It was 75 degrees! Hah. I laugh at their heat!
All this heat and humid­ity pro­vides the per­fect breed­ing ground for mos­qui­toes and ticks. In Eng­land, ticks are not as much a prob­lem as in the U.S., although Google tells me that disease-carrying ticks are on the rise there as well. And when we asked one gar­dener about the mos­quito sit­u­a­tion in Eng­land she assured us that they may have a few but that "They only bite the animals—not humans."
Well, how civilized!
As a vis­i­tor one of the first things that you notice is that Eng­lish gar­dens are full. Packed full. Plants grow up and out and over and under and around. Won­der­fully tex­tured shrubs, such as cot­i­nus or spirea, serve as back­drops against wedged-in peren­ni­als. Add some creep­ing vines, such as clema­tis, or a ram­bling rose scam­per up walls, trel­lises and tuteurs so that your eye is car­ried upward. Maybe there will be some clipped box­wood or a nicely shaped yew to pro­vide a bit of struc­ture or as a foil to all the ram­bunc­tious scram­bling plants.
You will see broad expanses of lawns on large estates, but in smaller gar­dens the swaths of green grass that make up most of Amer­i­can gar­den real estate just don't exist. And I noticed par­tic­u­larly on this trip that even grand estates are allow­ing rib­bons, patches and even fields of grass to grow high. Some­times it may be just a ring around a tree. In other places the tall grass may run along an old stone fence. In one gar­den we vis­ited the field was a true flower meadow in which wild orchids had taken up res­i­dence. I loved that the home own­ers had placed lit­tle iden­ti­fi­ca­tion cards on sticks around the perime­ter so that we could find the orchids.
Eng­lish gar­dens are all about peren­nial borders—really, really wide bor­ders where the plants are jam packed in so that you can't see even the small­est patch of soil. That means that the plants touch.
(Aside: I have heard more than one gar­den designer here in the U.S. laugh at clients who have panic attacks because they installed plants that touch. Well, as we learned even before kinder­garten, there is good touch­ing and there is bad touch­ing. When plants touch, it is good touch­ing. Okay?)
And let me tell you about the edg­ing. Those Brits adore their razor sharp bor­der edg­ing. British gar­den­ers cut deep edges into the sod, pre­cise as a mil­i­tary crease. They are metic­u­lously groomed to keep it in tip-top shape. One gar­dener showed us her husband's prized tool for this task. I was so impressed I came right home and found a sim­i­lar tool for myself.
Almost every Eng­lish gar­den I have vis­ited has a lit­tle green­house, nurs­ery beds and work stag­ing area. Gar­den­ers tuck work areas out of sight so you don't notice them. I always seek them out because they tell me some­thing about how the work gets done. Most of the green­houses have some sort of prop­a­ga­tion project in the works. These gar­dens are already packed full, so per­haps they are expand­ing their bor­ders, grow­ing for friends or maybe grow­ing new plants that will be sold at their local gar­den club or other fundraiser.
Eng­lish gar­dens are all about flow­ers and beauty. Veg­etable gar­dens are quite attrac­tive, but usu­ally quite util­i­tar­ian and tucked away so that you must go search­ing for them. Toma­toes and cucum­bers are often grow­ing in the greenhouses.
Hah! We may not be able to grow David Austin roses here in Mary­land, but we can grow toma­toes and cucum­bers with­out a greenhouse!
The British rally together with their gar­den­ing spirit too, invit­ing the pub­lic into pri­vate gar­dens as part of what they call their National Gar­dens Scheme. I love that they call it a "scheme." Here state­side we think of schemes as nefar­i­ous plots. The British con­sider a scheme a really good idea–in this case a way of rais­ing money for char­i­ta­ble causes. Gar­den­ers can apply to become a part of the National Gar­dens Scheme. Offi­cials inter­view the gar­den­ers and inspect the gar­dens. Gar­den­ers whose gar­den­ers are accepted into the scheme must offer some pub­lic days each year and also host pri­vate groups. Fees col­lected for the gar­den vis­its all go into the National Gar­dens Scheme cof­fers to ben­e­fit char­i­ta­ble organizations.
Lest you start to despair about how inad­e­quate your gar­den is (I did!), let me tell you that only two of the gar­dens were pri­mar­ily maintained—if not created—by the home­own­ers. At sev­eral of the gar­dens we vis­ited, we were met and guided around by the full-time gar­dener. At one gar­den, the full-time chief gar­dener told us he had two part-time helpers—one who worked two days a week and another who worked three days a week. Both are 71 years old and, accord­ing to the young-ish head gar­dener, "Have a most excel­lent work ethic." One of the old timers was pre­vi­ously in the mil­i­tary. The head gar­dener said that he could set his watch by the guy.
"His start­ing time is at 8:30 in the morn­ing. At 8:31 I hear the trim­mer start. His quit­ting time is at 4:30 in the after­noon. At 4:29 I hear him put away his tools." Ah, to have help in the garden.
But even if you don't have help, a con­tainer or two or per­haps a win­dow box sit­u­ated so you can see it as you scrub up the evening dishes can perk up your out­door space. I hope you find the pho­tos as inspir­ing as I do.
I'll be shar­ing more. Come along on the trip with me.
You can read more about my Big Fat Eng­lish Gar­den Vaca­tion at:
Did you enjoy this post? Please leave me a com­ment! I love to hear from readers.
Posted In: Flowers, Garden Design, Gardening, Gardening Life, Travel
Tags: Flowers, garden, Grocery Gardening, Vegetables
February 27th, 2010
Par­don me while I open the Depart­ment of Shame­less Pro­mo­tion. Did you know that Gro­cery Gar­den­ing is on not one…not two…but THREE Ama­zon best seller lists? The reviews (not all of them from my friends) have also been pos­i­tive. (My mother is so proud!)
If you don't yet have a copy of this book I wrote with my gar­den­ing friends Jean Ann Van Krev­e­len, Amanda Thom­sen and Teresa O'Connor, here's your chance to get one for FREE.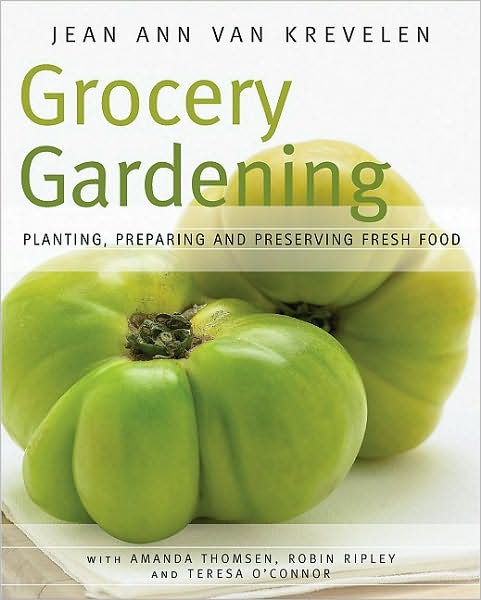 Leave me a com­ment to this post on or before Fri­day, March 5, and you'll be entered into the draw­ing. When you leave your com­ment, please answer one of these questions:
- How, if at all, do you read other com­ments on blog posts? Do you read them before respond­ing? Never read them? Some­thing else?
- After com­ment­ing, do you sub­scribe to the follow-up com­ments on that post?
- Do you return to a blog post after com­ment­ing to see what other peo­ple have had to say?
Your responses will be most help­ful in help­ing me to deal with the com­ments all the very kind peo­ple leave here at Bum­ble­bee. I always read every com­ment and love them. I go through phases when I respond. Then I think "No one is look­ing at my responses" so I stop. But then I feel guilty and start respond­ing again. So, help me out, okay? It'll give me more time for gro­cery gardening!
Got Gro­cery Gar­den­ing?
UPDATE
Dawn at Owl Hol­low News is the win­ner of the Gro­cery Gar­den­ing draw­ing. Con­grat­u­la­tions, Dawn!
Posted In: Books
Tags: giveaways, Grocery Gardening