January 19th, 2011
Ah, Jan­u­ary. I have cre­ated a new folder in Pho­to­shop Bridge enti­tled Gar­den 2011. I have one sin­gle photo in it, but it's an impor­tant one—a shot of where we'll be cre­at­ing a wood­land garden.
Out of neces­sity came oppor­tu­nity. We had the local tree guys out to take down a large tulip tree that was in immi­nent dan­ger of falling onto the chicken coop and across the dri­ve­way. It was a tricky under­tak­ing because of its loca­tion. The older of the father/son pair is in his 60s, but you wouldn't know it by the way he scam­pered up that tree. Start­ing at the top he sawed off limbs and then he topped it. I was in the house when the top 10 feet of the tree came down. There was a huge crash, which I would have been wor­ried about except I heard the two men erupt into whoops of glee. Isn't it great to take joy in your work?
Any­way, the rest of the tree came down, as did another in the way. I will also have to move a lot of the hostas I planted there in the past two years since they will now likely scorch in the sun. I'm not show­ing you pho­tos of it all because the whole process made a humon­gous mess that I will have to deal with when the ther­mome­ter climbs above freezing.
While the tree guys were here they made me a good deal offer to clear some of the woods. I hopped on the chance to get this sec­tion of the woods cleared of under­brush and trash trees. It is the area near the house that we look on when we eat din­ner out­side in the sum­mer. With­out all the tan­gle of under­brush and trash trees, we'll get a bet­ter view into the woods. We'll also put in a path and a bench to over­look a ravine that you can't see very well in the photo.
What­ever else goes in the wood­land gar­den, I am deter­mined that it will be low main­te­nance. We already have a healthy crop of moss. I like moss. Some of the hostas will also find a new home there. Then there will be bulbs. And a ham­mock. And my bot­tle tree.
So here you have it, the first view of the new wood­land garden.
Posted In: Gardening
Tags: Blogging, garden seating, trees, winter, woodland garden
March 10th, 2010
Does any­one do hos­pi­tal­ity bet­ter than South­ern­ers? Per­haps. But I can't think of who right now because last week I was in David­son, NC, speak­ing at the David­son Hor­ti­cul­tural Sym­po­sium where the mem­bers of the David­son Gar­den Club rolled out the red car­pet. It's very fresh in my mind. And, oh my!
I was there as one of the guest speak­ers talk­ing about the "Art­ful Veg­etable Garden"—once again rid­ing my hobby horse about how edi­ble gar­dens don't have to be util­i­tar­ian look­ing. I rubbed elbows with fel­low speak­ers Allan Armitage, W. Gary Smith ,  William Welch and Pamela Baggett. The David­son Gar­den Club mem­bers arranged for our trans­porta­tion and accom­mo­da­tions, flow­ers in our rooms and for our lapels, escorts to make sure we didn't get lost, fab­u­lous din­ners and lunches and one very spe­cial gar­den tour.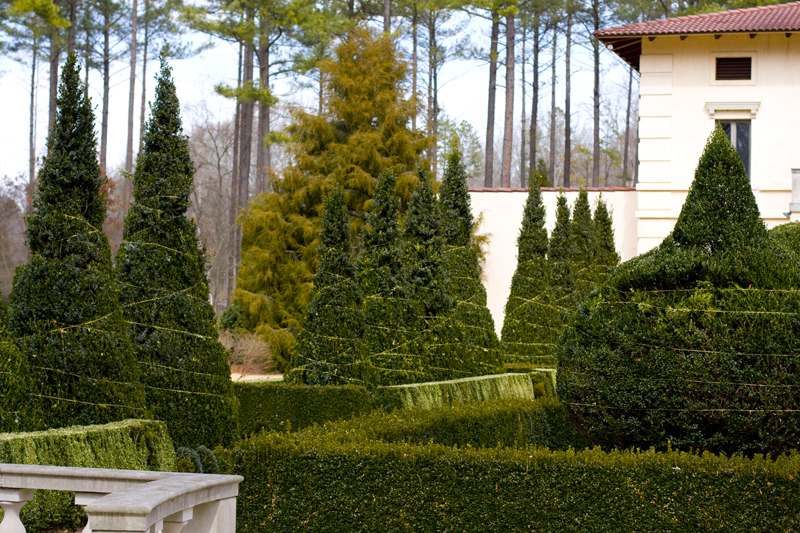 The gar­den sur­rounds the Ital­ian Renaissance-style home of a pri­vate cou­ple who have cre­ated a very approach­able and walk­a­ble gar­den on acres of pro­tected land in David­son. A path­way cir­cles the perime­ter of the house and is planted with fab­u­lous spec­i­mens that are evi­dent even in the still-chilly weather of early March.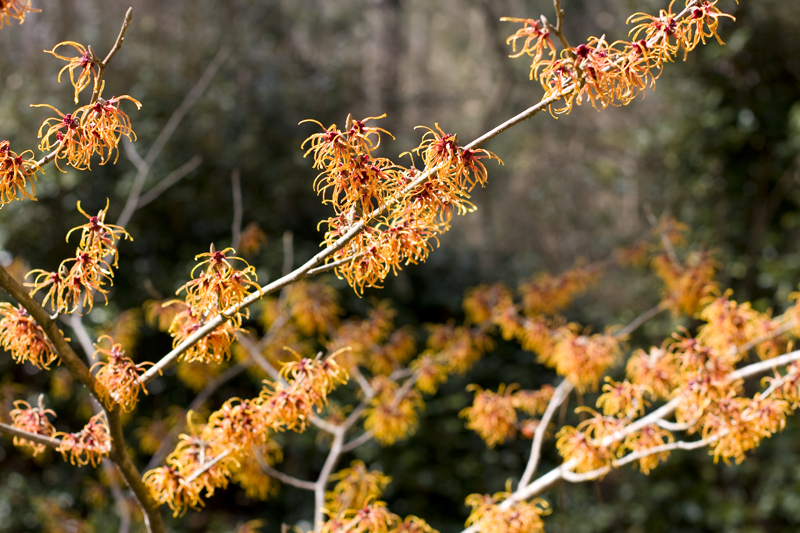 Care­ful atten­tion to plant selec­tion, art­ful cre­ation of path­ways to give long views of gar­den sculp­tures, cre­ative use of ele­ments for a rus­tic touch and even mossy paths, con­tributed unasked, cour­tesy of Mother Nature, made this a fab­u­lous and mem­o­rable gar­den walk.
You can see more of the gar­den here.
I appre­ci­ate my new friends in David­son and their fab­u­lous South­ern hos­pi­tal­ity. Thank you!
Posted In: Garden Design, Gardening, Travel
Tags: Blogging, garden seating, seasons, Travel, winter