September 25th, 2014
Well, hello there! Did you notice I was gone? Did you miss me? I missed you.
Truly, I didn't set out to take nearly a full year off from blog­ging here at Bum­ble­bee. Some­times, life just gets in the way. Some­times you have to make a choice between liv­ing life or writ­ing about it. Not that liv­ing and writ­ing are mutu­ally exclu­sive, of course. I rec­og­nize that. Heck, all those Mount Ever­est climbers, round-the-world sailors, Appalachian Trail hik­ers, North Pole explor­ers and Eng­lish Chan­nel swim­mers are cer­tainly pro­lific about crank­ing out the books. I bet some of them even blog more than once a year.
It's just that I was writ­ing other things, par­tic­u­larly for work. But I did write also write a book. Yes, it's finally out! Wis­dom for Home Pre­servers was released at the begin­ning of this month.
I sneaked into Barnes & Noble the other day and took a selfie with the only copy they had on their store shelf. I sup­pose they had sold the dozens of other copies they had stocked because they really did have only one copy. Just one!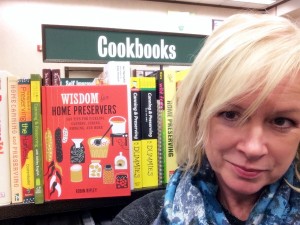 Let that be a les­son to you. You must run right out and buy a copy before they are all gone!
The book includes 500 (500!) tips about can­ning, freez­ing, cur­ing, smok­ing, root cel­lar­ing and more. It's an easy read and the spe­cially com­mis­sioned linocut prints by print­maker Melvyn Evans pro­vide a nice retro vibe to this tidy lit­tle hard­back book.
I'll be back soon writ­ing about the life I'm liv­ing. It's not Chan­nel swim­ming or polar explo­ration though. Just more coun­try life.
Posted In: Blogging, Books, Canning and Preserving
Tags: Wisdom for Home Preservers
May 15th, 2012
Some peo­ple are just born clever and handy.  These are the peo­ple who don't fear the sound of power tools or those long, scary aisles of bits and pieces in the hard­ware store. They have DIY in their DNA.
Oth­ers of us need a lit­tle hand-holding, a kindly pep talk and a wee bit of a kick in the pants to con­vince us to put down the mail order cat­a­logs and light a fire to get our cre­ative juices flowing.
If you're in the sec­ond cat­e­gory, there is no bet­ter gar­den DIY guru to get you started on a hand­made life out­doors than Lorene Edwards Forkner, author of the newly released book Hand­made Gar­den Projects.
Lorene is one of these peo­ple who just bub­bles with enthu­si­asm. This is a woman who doesn't fear the color orange, who hauls an old Airstream trailer into her back yard to use as a grown-up play­house and calls it her "canned ham" and who has turned some old bed­springs into an amaz­ingly artis­tic rusted out­door statement—in the front of her home!
Sev­eral gar­den blog­gers had the chance to visit Lorene's gar­den last sum­mer when she was putting the fin­ish­ing touches on her book. We saw first-hand the results of her crafti­ness in her own gar­den. Now the book is released and every­one can see a bit of Lorene's garden—and some clever and easy ideas for a hand­made life outdoors.
Hand­made Gar­den Projects is as much an inspi­ra­tion book  as a DIY recipe book. Before launch­ing into the how-to por­tion of the book, Lorene lights the cre­ative fire with a quick jaunt through three gar­dens heavy on the hand­made. My only com­plaint is that she only gives you a peek at her "canned ham."  (Since it's so adorable, I'll share you a cou­ple of pho­tos I took when I vis­ited last year.)
Each project is care­fully described with a list of mate­ri­als, tools and other sup­plies needed. But the intro­duc­tions don't read like your usual how-to manual—many of which read like they were writ­ten by engi­neers. (Sorry, not all engi­neers. You know who you are.)
For exam­ple, when talk­ing about her mate­ri­als used to make her rugged steel trel­lis, she writes, "Incred­i­bly strong, vir­tu­ally inde­struc­tible, and beau­ti­ful besides, rock screen scrap is my favorite heavy metal."
But she's not just clever. She's help­ful too. She goes on to explain what rock screen is, sizes you can expect to find, where to look and the friendly reminder that "Unless your sal­vage yard can cus­tom cut pieces to size, it's best to keep an open mind, scout­ing for inter­est­ing pieces and suit­able weights."
Projects in Hand­made Gar­den Projects include path­ways, step­ping stone and edg­ing ideas, trel­lises and sup­ports, dec­o­ra­tive accents, con­tain­ers and fin­ish­ing touches. None of them appear very dif­fi­cult and most can be accom­plished in an after­noon or a week­end, depend­ing on how many times you stop for beer.
It's a fun and use­ful book to set you on your path to a hand­made life in the great out­doors. You can thank Lorene. She'll be the one wear­ing orange, hav­ing fun and rev­el­ing in her own clever hand­made garden.
Want to win this copy of the book? Leave me a com­ment by Wednes­day, May 23, and I'll select a win­ner through a ran­dom drawing!
Want to see other blog posts about Lorene's book on the vir­tual book tour? You can visit them here where there are more giveaways.
http://www.amateurbot-ann-ist.com/
http://torontogardens.blogspot.com/
http://wwwrockrose.blogspot.com/
http://www.growingagardenindavis.com/
http://bonneylassie.blogspot.com/
http://bwisegardening.blogspot.com/
http://www.houstongardengirl.com/
http://www.vintagegardengal.com/
Tim­ber Press, pub­lisher of Hand­made Gar­den Projects, pro­vided a free copy of this book for review.
UPDATE: The win­ner of Hand­made Gar­den Projects is Mary Davis. Mary, I'm email­ing you. Come on down! (Well, send me your mail­ing address anyway.)
Tags: Blogging