January 1st, 2012
Do you ever wan­der through the gro­cery store, pick up a pack­age of pre­pared food and think to your­self, "I can make that?"
I'm not talk­ing about some pathetic box of pre-made pan­cakes or a frozen Lean Cui­sine. I'm talk­ing about pantry sta­ples, such as…well, such as crackers!
At my local gro­cery store the cracker selec­tion is, shall we say, min­i­mal­is­tic. There are the saltines, the Ritzes, the Triscuits. Beside them are a host of scary cracker com­bi­na­tions with ingre­di­ent lists that read like a for­eign phone book.  A gal with my taste for a crispy, savory, crack­ery treat is much disappointed.
The offer­ings at places such as Whole Foods are bet­ter. In fact, my favorite store-bought cracker is Dr. Kracker. I'm in love with Dr. Kracker. (Don't tell my hus­band.) The crack­ers I'm talk­ing about are cellophane-wrapped in bun­dles of about eight crack­ers, heavy on the pump­kin seeds and cheese. I dream about these crack­ers. I will make these crack­ers some­day because, much as I love him, it takes me an hour to get my Kracker fix. See, I live in the coun­try and the near­est Whole Foods is an hour away.
I'm on a quest to make the per­fect cracker. I have read approx­i­mately 50 cracker recipes to under­stand cracker psy­chol­ogy. Yeast or no yeast? Cheese or no cheese? Seeds? Definitely.
Do you like nigella seeds? No, they have noth­ing to do with that beau­ti­ful, buxom bomb­shell on the Food Net­work. I'm talk­ing about the lit­tle triangle-shaped seeds used in Indian cook­ing. What? You don't have them avail­able at your local Pig­gly Wig­gly? I don't either. So I buy them from Penzy's.
This recipe is based on a recipe from Robert Sinskey Vine­yards. These crack­ers com­bine these won­der­ful, black, smokey nigella seeds with poppy seeds. And what's a cracker with­out cheese, right? Throw some right in.
Cracker mak­ing isn't nearly as dif­fi­cult as you might think. Set aside a cou­ple of hours. Make your­self a nice glass of cin­na­mon iced tea. Turn on some music or an audio book and work away. Heck, you can even take a leisurely nap while the dough is ris­ing. So give these Pep­pery Cheesy Crack­ers with Nigella and Poppy Seeds a whirl.
Hand-Crafted Pep­pery Cheesy Crack­ers with Nigella and Poppy Seeds
These crack­ers are won­der­ful with a roasted rus­tic tomato soup. They are also hearty enough to pair with an arti­choke dip, baba ganouch or hummus. 
1 cup warm water 1 table­spoon yeast 3 1/2 cups unbleached white flour 1 cup grated cheese, such as ched­dar, mon­terey jack or com­bi­na­tion 2 tea­spoons nigella seeds 1 tea­spoon poppy seeds 1 tea­spoon sesame seeds 1/4 tea­spoon pep­per 4 table­spoons unsalted but­ter, soft­ened at room temp olive oil coarse-grained salt corn meal
1. Mix warm water and yeast in a small bowl and set aside for 5 minutes.
2. Mix flour into a stand mix­ing bowl equipped with a dough hook. Mix in yeast and water com­bi­na­tion at low speed until the dough forms into a shaggy dough.
3. Add cheese, seeds and soft but­ter and pep­per and con­tinue knead­ing until the dough is a fairly cohe­sive, but not tight ball–about 5 minutes.
4. Gather dough into a ball with your hands and place into a large, very lightly oiled bowl. Place the bowl in a warm place and cover with a towel. Because our house is fairly cool in the fall and win­ter, I often use a heat­ing pad set on medium. Let rise for about 90 minutes.
5.  Pre­heat oven to 375 degrees.
6.  Punch dough down. Divide into three work­ing sec­tions. Tak­ing one sec­tion, roll it into a ball. Then, using a rolling pin, roll it out until fairly thin and about 10 — 12″ x 10 — 12″. There is no need to flour the work sur­face. Turn the dough over a cou­ple of times to get an even sheet. Using a knife or dec­o­ra­tive pas­try cut­ter, trim the rolled-out sheet's edges so you have a rec­tan­gle or square. Cut the rectangle/square into sec­tions about three inches square.  Gen­tly trans­fer the pieces onto a bak­ing sheet dusted lightly with corn meal. Brush lightly with olive oil and sprin­kle with salt.
7.  Bake the crack­ers for 8 to 10 min­utes, flip and bake for another 8 to 10 min­utes. The crack­ers should be golden brown and crisp. If not, cook until they are.
8.  Cool crack­ers on a rack and pro­ceed to work the remain­ing two pieces of dough in the same fashion.
9. Cool com­pletely before stor­ing in an air tight container.
10. Eat.
Posted In: Food and Recipes
Tags: Baking, crackers, nigella seeds
December 21st, 2008
Fam­ily din­ners have always been an impor­tant part of my life. Fam­ily din­ners with cake, espe­cially, have always been an impor­tant part of my life. And the best din­ners are those fea­tur­ing oat­meal cake with coconut topping.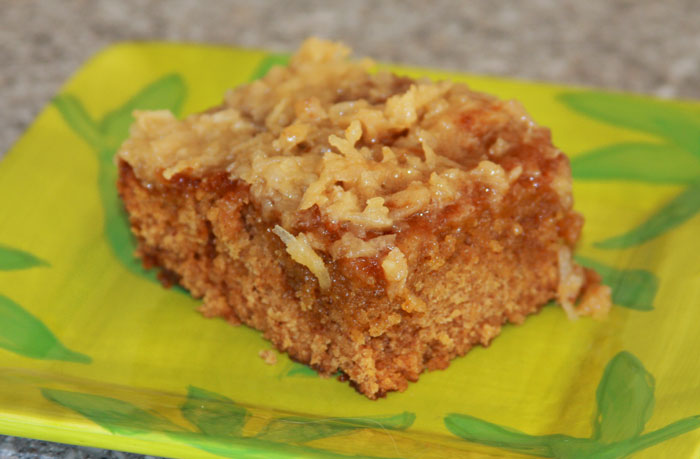 I remem­ber as a kid my par­ents, broth­ers and I used to head over to my grand­par­ents' house for Sun­day din­ner after church. All my aunts, uncles and numer­ous cousins would gather to tell out­ra­geous sto­ries, build and fix things (my fam­ily is always build­ing and fix­ing things) while my grand­mother cooked a tra­di­tional South­ern din­ner and my grand­fa­ther escaped to the gar­den to tend his roses.
My grandmother's din­ners never had fewer than, say, 15 bowls and heap­ing plates on the table—fried chicken, col­lard greens, mashed pota­toes and gravy, oniony cole slaw, lima beans, angel bis­cuits, salty Vir­ginia ham, green beans. And the desserts. Oh, the desserts!
We would eat in shifts because there wasn't enough room at the table for every­one. After­words, the women (no, never the men) would pitch in and clean the kitchen.
I remem­ber one Sun­day my Aunt Mar­garet had fin­ished up in the kitchen and decided to mop and wax my grandmother's floor. I watched on, chat­ting, as she put the fin­ish­ing touches and finally man­aged to wax her way into a corner.
"Oh no! Here I am in this cor­ner and the floor's all wet. I guess I'll just stand here until it's dry," she declared.
"No! You can just walk out and wax over your foot­steps," I said, my five-year-old self proud of com­ing up with the solution.
Of course, my Aunt Mar­garet was always the kid­der and had let me come up with the solu­tion. Still, it's a fond memory—well, that and the cake.
My hus­band loves this cake so much he nearly dances when he real­izes that I have made one. And he keeps saying—over and over again—"Have I men­tioned how much I love this cake?"
Now, if this chocolate-loving gal says that she loves an oat­meal cake, you can take it to the bank that this is a good cake. And it's one of those amaz­ing cakes that only get bet­ter with time.
So make it now and make some­one happy.
Oat­meal Cake with Coconut Top­ping 1 1/4 cup boil­ing water 1 cup old fash­ioned oats 8 table­spoons (1 stick) but­ter 1 cup white sugar 1 cup brown sugar 2 eggs 1 tea­spoon bak­ing soda 1 tea­spoon cin­na­mon 1 1/3 cups flour pinch of salt
Pre­heat oven to 350 degrees. Pour boil­ing water over oats and let stand for 15 min­utes. In a mixer, cream together but­ter, white and brown sug­ars. Add eggs. In a sep­a­rate bowl, mix together bak­ing soda, cin­na­mon, flour and salt. Grad­u­ally add the flour mix­ture to the sugar, but­ter and egg mix­ture until well blended. Stir in the oatmeal/water mix­ture until well com­bined. Pour into a 9 x 13″ bak­ing pan. (I use a Pyrex bak­ing pan.) Bake at 350 degrees for 35 min­utes or until a knife inserted into the mid­dle comes out clean. Top with top­ping after the cake cools for about 10 to 15 minutes.
Coconut Top­ping 8 table­spoons (1 stick) but­ter (brought to room tem­per­a­ture) 1 cup brown sugar 1 1/2 cups fresh grated coconut 1 tea­spoon vanilla 1/8 to 1/4 cup milk
Blend all the ingre­di­ents together until well mixed. Pour over warm (but not hot) cake and spread evenly.
___________________
By the way, if you haven't voted on a chicken name for The Chicken For­merly Known as Min­nie Ruth, please do so now.  I really don't want to name this chicken Johnny.
Posted In: Food and Recipes
Tags: Baking, cake, desserts, Family, Recipes