October 27th, 2013
I went out this morn­ing for my daily run/walk. I say "run/walk." I used to say "run." Now I say "run/walk." It's really "walk." I am still in denial about the whole knee pain situation.
Any­way, I digress.
I went out this morn­ing for my daily run/walk. Most days I lis­ten to books via Audi­ble on my iPhone while I run/walk because a good book with a com­pelling sto­ry­line and a tal­ented reader who keeps me hang­ing on every word makes me want to keep run/walking so I don't have to go inside and work/work. It's a fab­u­lous way to procrastinate/procrastinate and still feel a wee bit vir­tu­ous. I'm read­ing and exer­cis­ing! In fact, I am pretty much on track to fin­ish 100 Kin­dle, tra­di­tional and audio­books this year as part of my Goodreads goal.
This morn­ing I had to fum­ble a bit before get­ting Audi­ble up and run­ning. (Thank you iOS 7 for mak­ing me add a pass­word.) While I was mash­ing vir­tual but­tons on the minus­cule screen with­out ben­e­fit of my read­ing glasses, I ran/walked sev­eral yards, not look­ing at the first thing except that tiny screen.
Sud­denly it hit me. Smoke. Specif­i­cally, wood smoke from someone's fireplace.
Now, I'm not big into fire­places with smoke because of sen­si­tive sinuses and a strong ten­dency to get painful sinus infec­tions when exposed to smoke of any sort. But small doses of out­side smoke from some­one else's fire­place a half mile away is rather nice. It says, "Fall!" It says, "Time to reflect and slow down." It says, "Drink some hot choco­late and take a nap!"
It's a smell with dozens of asso­ci­a­tions from child­hood and from the hap­pi­est (and a few sad) times of my life. That smell was accom­pa­nied by the nature music of my feet brush­ing aside the fallen leaves as I walked up the driveway.
"Slow down!" I said to myself. (But don't stop running/walking!)
I put away the iPhone and looked at the mosaic of colors—red, yel­low, brown, green and every color of fall, punc­tu­ated by the occa­sional, fear­less rose, salvia and celosia.
If I could bot­tle up that fan­tas­ti­cal com­bi­na­tion of smell, sound, fresh air, color—and the rush of the run/walk—I would be richer than Oprah.
Alas, no one has fig­ured out how to cap­ture the magic of Mother Nature, although artists, pho­tog­ra­phers, musi­cians and per­fumers still try.
But I am still rich. I am rich because I can appre­ci­ate the gifts Mother Nature hands out for free to any­one will­ing to pause in their run/walk through life and appre­ci­ate it.
Namaste.
Posted In: Gardening, Gardening Life
Tags: fall, lemon grass, pineapple sage, salvia
November 25th, 2011
I have mixed feel­ings about fall and the com­ing winter.
I wan­der the gar­den and yard look­ing at the car­pet of wet leaves. They would be a lot more beau­ti­ful if they would just vol­un­tar­ily hop right into those bags for com­post­ing. They have nearly all fallen now except the two zelko­vas, which stub­bornly hold on to the leaves until I have raked up all the oth­ers. Then those ras­cally zelko­vas drop them all the next day within about five minutes.
How do they know?
Trees have fallen in the fall as well, like giant pick-up sticks. More mess that will require a chain­saw. Chick­weed is creep­ing into the neglected beds.
I wake up in the dark. The days are so short now that the chick­ens go to roost at 3:30 in the afternoon.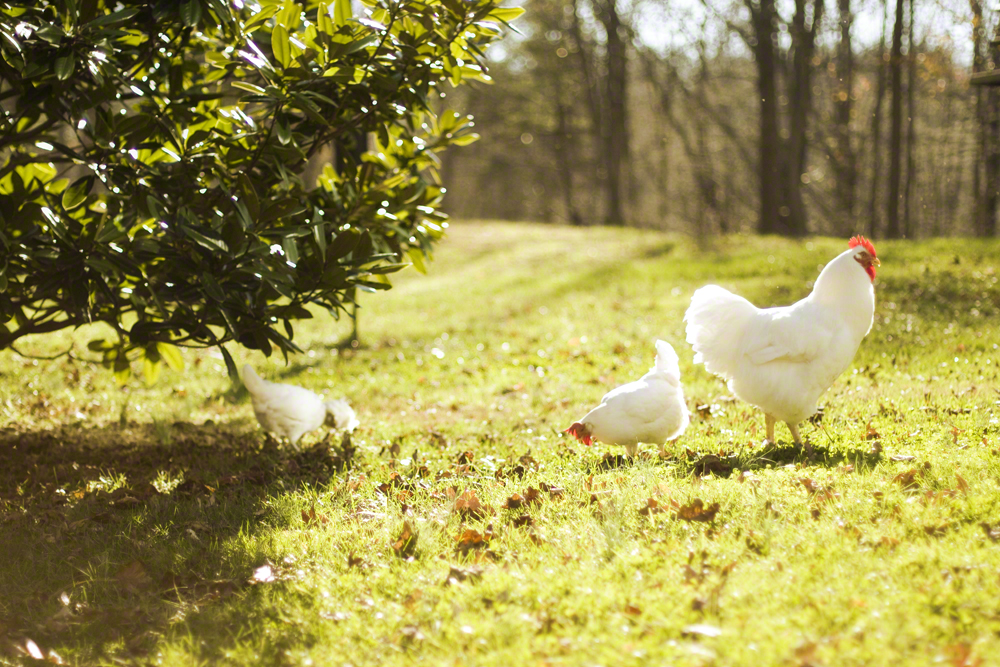 I try to reframe my view of autumn.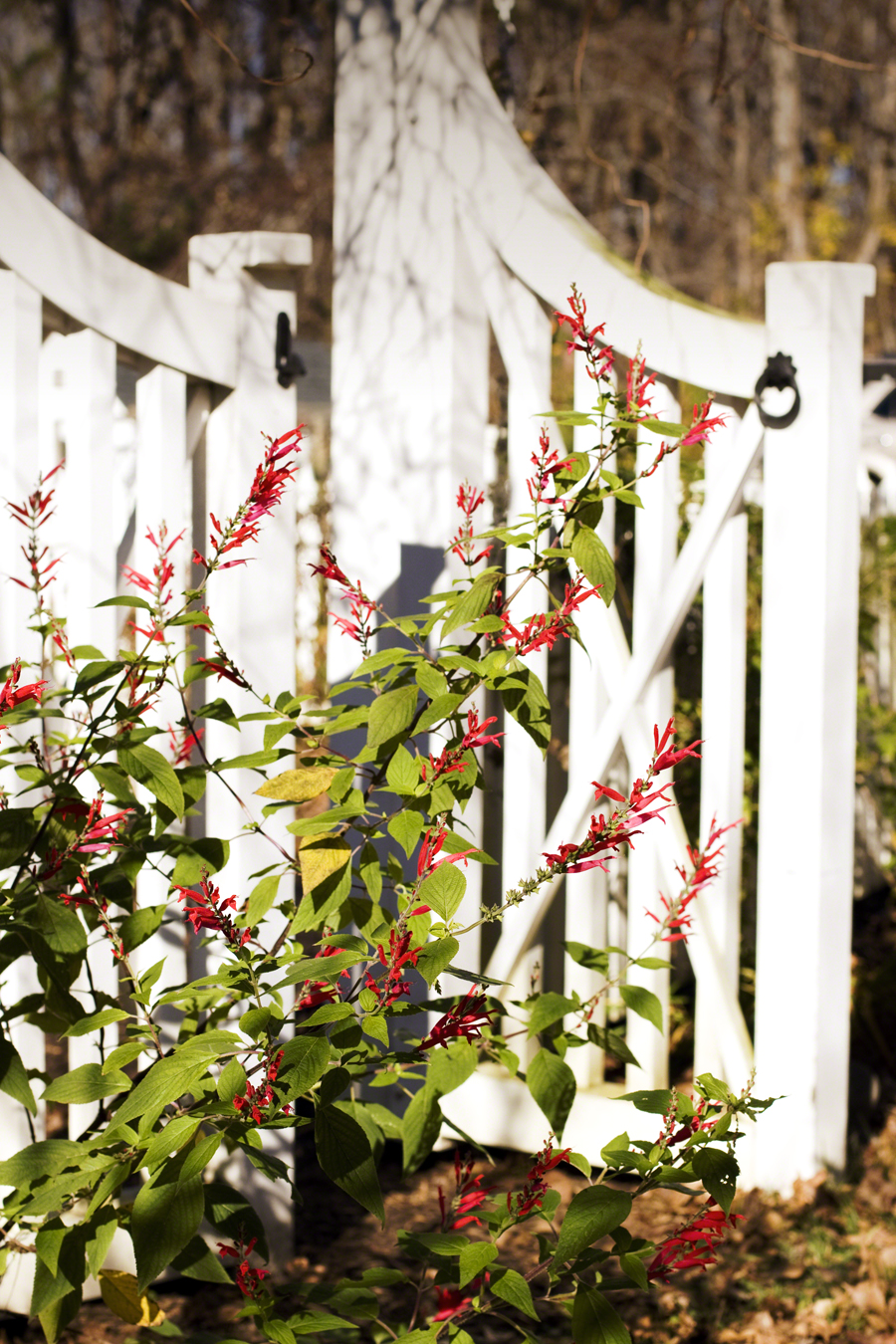 The shorter days mean there is less time for frol­ick­ing with my rake and leaf bags. But I'm as happy suck­ing up books as a drunk at an open bar wed­ding reception.
The cucum­bers, pep­pers and toma­toes are gone. But I have a robust crop of Swiss chard. I have even man­aged to out­smart the deer by net­ting it. Let­tuce, spinach and arugula are thriv­ing in the cold frame. Cab­bages and Brus­sels sprouts will be ready for har­vest soon.  The salvia is bloom­ing. Chick­ens love chickweed.
With­out the leaves, I can see more of the majes­tic, sculp­tural beauty of the trees.
Yes, I have mixed feel­ings about the change of sea­sons. I will work on see­ing the glass half full.
(Click on the pho­tos to embiggen.)
Posted In: Chickens, Gardening, Lifestyle
Tags: autumn, fall, seasons, Vegetables