April 30th, 2012
A few years ago my then-teenage son convinced me to watch the movie Snakes on a Plane. It's a movie about—you guessed it—snakes on a plane. Despite the fact that it was an incredibly stupid film, it gave me nightmares. But movie snakes don't hold a candle to real, live snakes right at home.
This weekend I asked my husband to dispose of two ratty-looking topiary trees that were in large wooden containers on either side of the garage door. I watched from the kitchen window as he dragged them back to the compost pile. They were overgrown and pot-bound, so I wasn't surprised when he tugged and pulled to try and extricate them from the containers. This went on for some time. I continued to watch as he stood with his hands on his hips thinking about the situation. Apparently reaching  a conclusion, I saw him start in on the containers with a mattock.
And then I watched as he hot-footed it back to the house.
"Those pots are filled with copperheads!"
Now, I didn't go out to witness it first-hand. It's not because I'm a big old scaredey cat. Oh, no. Rather it's because I have complete trust in my husband's powers of observation and reporting of the local wildlife. I mean, if he says copperheads are out there swarming by the dozens, I don't really need to go out and verify it with my own eyes, right? A marriage must be based on trust.
I hope it didn't violate any Maryland state wildlife laws, because I'm going to tell you right here that Harry screwed up his manly courage, went back out and committed mass snake-icide. He was running around with a shovel smacking at the ground, hopping around and looking very threatening. I was afraid of him. I think he got most of the little buggers. I got nightmares.
Okay, so that I don't leave you with that horrible image I'll share some garden photos to calm you down. Let's talk a little bit about hellebores, shall we?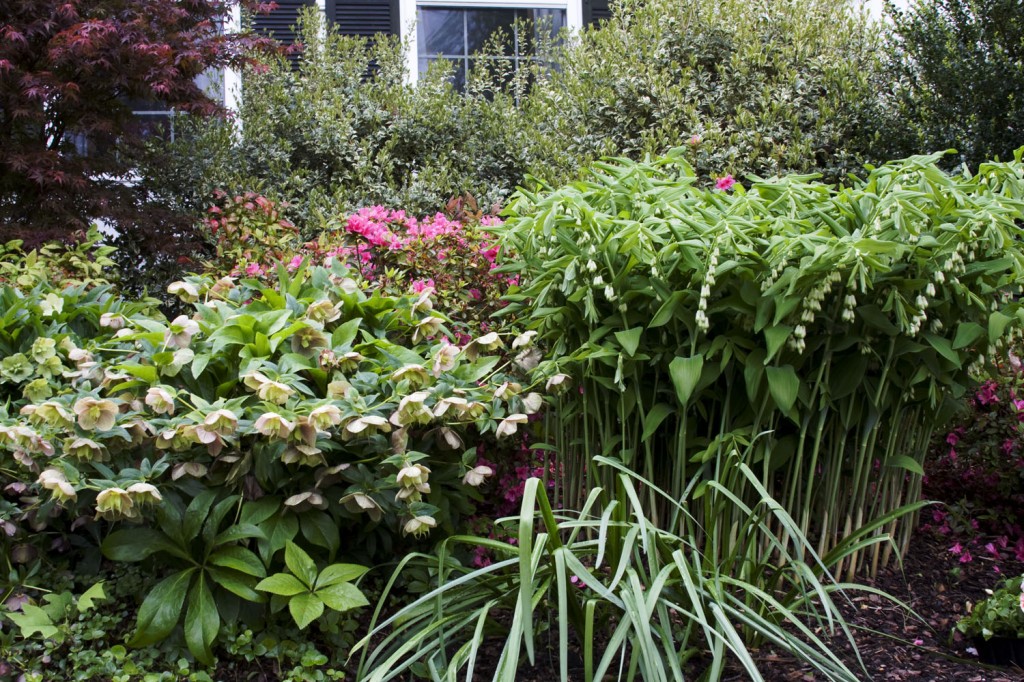 One of the reasons I adore hellebores as much as I do is that they give me hope in the bleakest months of winter. Regardless of what I do, these babies show their little heads sometime in January and gradually emerge from under whatever nature has thrown their way. I have seen them emerging from under a foot of snow, in the freezing rain and even in those dry winter spells.
I help them along by trimming off the damaged greenery from the previous year, allowing the plant's strength to be concentrated in flowering. They reward me by blooming and blooming. The flowers hang on through spring and even into summer. These are plants that really pull their weight in the garden.
Now that they are well-established I am faced each year with relocating or re-homing hundreds of little hellebore orientalis seedlings. Frankly, it's not a terrible task and I always find takers. I'm looking forward to the time when I have the same issue with the 'Kingston Cardinal' hellebores. Massed together, they make a very nice statement while also crowding out weeds and looking good almost the whole year long.
Have you forgotten all about the snakes yet? Good. Whatever you do, don't think about snakes. Especially don't think about poisonous snakes in the garden. Dozens and dozens of swarming poisonous snakes in the garden.
(As always, click on photos to embiggen.)
Posted In: Container Gardening, Gardening, Nature and Wildlife
Tags: copperheads, hellebores, snakes
April 15th, 2012
Each season around my garden seems to be dominated by a particular color or two. Fall is golden yellows and reds. Winter is shades of brown and grey, occasionally punctuated by the white of snow.
Once spring starts to emerge, yellow predominates, with daffodils spotting the lawn and the edges of the driveway. Later in the spring the purples emerge, with crocuses, irises, wisteria and baptisia blooming. Summer gives way to oranges and reds.
But, as with nearly all gardens, most of the year the backdrop color is green. Thank goodness green is such an interesting color, unlike, say, brown. Brown is, well, brown.
We are blessed to have woods surrounding the sunny, cleared area where our house and potager are situated. Although I didn't initially know how to deal with the shade from the trees, over the past few years as I have learned more about shade plants, I have become more enamored with the possibilities of the shade garden.
The area near the chicken coop is now one of my favorites. (You may be able to tell, given how often I photograph this particular spot.) It started out as weeds. Then when we had a big dog, it was referred to as the Poop Garden. (Charming, no?) Later, it was just the chicken yard. Now, it is the Green Garden or, sometimes, the Hosta Garden.
In this area I have been collecting dozens of hosta varieties. The possibilities are endless! Blue Angel and Big Daddy hostas. Small Mouse Ears and Stiletto hostas. Lush Sum and Substance and Guacamole hostas. Someday when the Empress Wu hostas are four feet tall, they will be a focal point.
Tiarella, bleeding hearts, ferns and lamiums provide some variety. Flowering quince and deuzia are backdrop shrubs. I am training an edgeworthia into a standard. And although the paint on our kiwi green bench is now beginning to flake, I think I'll wait another year to decide how to deal with the paint.
One year some golden-colored creeping Jenny escaped from a window box and made itself at home near the back deck. Being a fairly laissez-faire gardener, I let it be—and even encouraged its creepy habits by spreading it around. I rather like the look of it encroaching into the lawn. In fact, two years ago I was horrified when, in a frenzy of weeding zeal, my husband tried to eliminate it! (But that's not so easy, my friend. So be careful about Jenny before allowing her to roam.)
Yes, it's green season most of the year around here–my favorite season of all.
(As always, click on the photo to embiggen.)
Posted In: Gardening
Tags: Blogging, garden seating