March 10th, 2010
Does anyone do hospitality better than Southerners? Perhaps. But I can't think of who right now because last week I was in Davidson, NC, speaking at the Davidson Horticultural Symposium where the members of the Davidson Garden Club rolled out the red carpet. It's very fresh in my mind. And, oh my!
I was there as one of the guest speakers talking about the "Artful Vegetable Garden"—once again riding my hobby horse about how edible gardens don't have to be utilitarian looking. I rubbed elbows with fellow speakers Allan Armitage, W. Gary Smith ,  William Welch and Pamela Baggett. The Davidson Garden Club members arranged for our transportation and accommodations, flowers in our rooms and for our lapels, escorts to make sure we didn't get lost, fabulous dinners and lunches and one very special garden tour.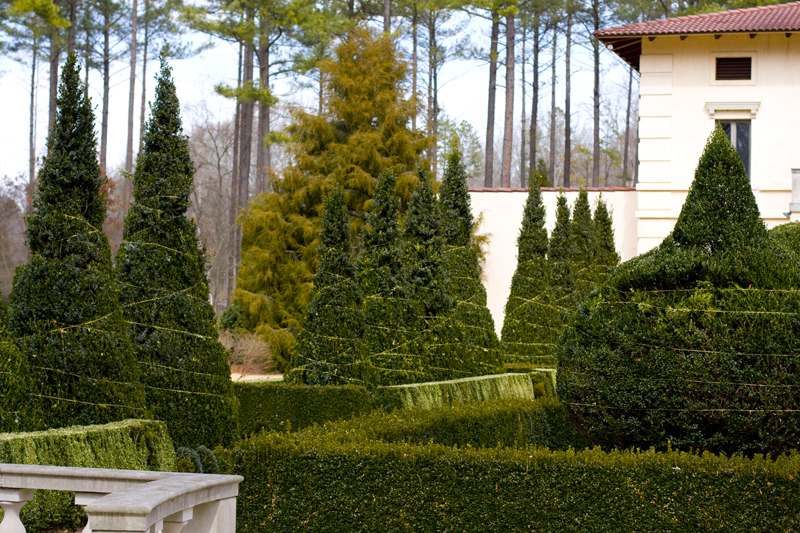 The garden surrounds the Italian Renaissance-style home of a private couple who have created a very approachable and walkable garden on acres of protected land in Davidson. A pathway circles the perimeter of the house and is planted with fabulous specimens that are evident even in the still-chilly weather of early March.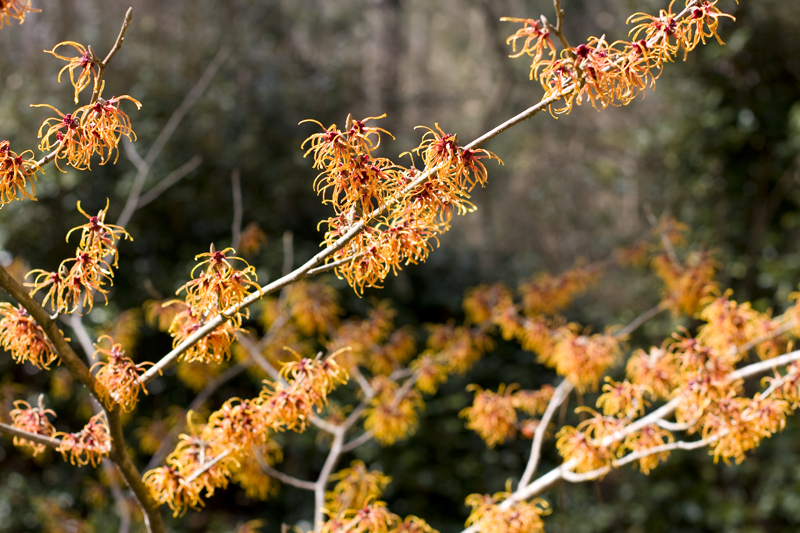 Careful attention to plant selection, artful creation of pathways to give long views of garden sculptures, creative use of elements for a rustic touch and even mossy paths, contributed unasked, courtesy of Mother Nature, made this a fabulous and memorable garden walk.
You can see more of the garden here.
I appreciate my new friends in Davidson and their fabulous Southern hospitality. Thank you!
Posted In: Garden Design, Gardening, Travel
Tags: Blogging, garden seating, seasons, Travel, winter
April 20th, 2008
There is not much blooming here in Geneva, but then that's not the reason one visits Switzerland in April anyway, is it?
I will, in the absence of horticultural stimulation, satisfy myself with some observations from my visit.
Today is Sunday. The Swiss very sensibly take Sundays off. Stores and most restaurants are closed as friends and family stroll about and, presumably, relax. The tourists are forced to forego their shopping exhertions and focus, instead, on behaving like the Swiss, puttering in parks, playing giant games of chess, sitting in cafes sipping strong coffee or window shopping among the closed shops.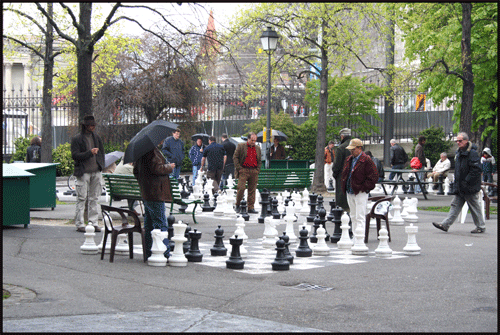 I dawdled over breakfast and the newspaper, feeling quite tired from my travels, work, lengthy sightseeing walks and, of course, the time change.
Although I grouse about the price of the hotel, it is quite nice. They put on a very comprehensive and stylish breakfast that is included in the cost. I have never had such wonderful yogurt, even in Amsterdam or Greece, where I raved about the yogurt. If you ever travel to Europe, please eat the plain yogurt. It is divine and absolutely nothing like you will get as plain yogurt in the States.
After attending to a few housekeeping chores (such as washing my socks in the sink), I headed out to catch the bus down to the old town.
There are few taxis here in Geneva. Those that are available are expensive and must be secured at one of the rare taxi stands around town. As a result, even the most well-heeled visitors at my hotel are advised on the location of the nearest bus stop and provided with bus/tram schedules and free passes to use for unlimited transportation during the length of their stay.
On leaving the hotel and chatting, yet again, with the doorman, I am reminded of how the Swiss have surprised me with their friendliness. Everywhere you go, people say hello and good-bye, so your day is a succession of "Bonjours," "Au Revoirs" "Bon Weekends" and "Bon nuits." On the bus, passengers always pile their purses, backpacks and shopping in their laps so that someone can take the seat next to them. And pedestrians with no intention of taking the bus will hold the bus door when they see someone running down the sidewalk to catch the bus.
Most people around town wear sensible shoes, although you don't often see sneakers or other athletic shoes except, as in the rest of Europe, on the American tourists. The fashionable women often wear boots–ankle high to knee high–with short skirts or slim slacks. The women always wear their clothing close-fitting and it is rare to see anyone overweight.
When you do see someone heavy, it is nearly always an American. I hate to admit being ashamed of my fellow citizens, but when I see my fellow Americans ordering ice creams or pastries when they are already bursting from the seams of their bluejeans and toddling off in their Nikes, I do cringe. I have to wonder if circulating some comparative photos of Europeans and Americans might not shame us, as a country, into mending our ways. But then, the global flogging on other fronts hasn't worked either, has it?
Here you see somewhat more colorful clothing that you generally see in Paris or even Greece, although I still wouldn't call the clothing colorful. Most women and some men wear elaborately tied scarves with their coats and jackets and usually when they shed their outdoor clothes as well. These serve a practical as well as fashionable purpose, especially in April, since the weather is quite changeable and you never know when you'll need an impromptu headcover to protect you from a rainshower or cold breeze.
This fashion is actually very typical of European cities and even among some people in large U.S. cities.  Seeing the practicality of such a fashion I make a point of packing two or three of my favorite scarves when I travel. In fact, this is one of the luxury purchases I allow myself when I visit foreign cities–the memento of a scarf. I have an enormous black silk scarf I purchased years ago in London for a small fortune I couldn't really afford, but that I'm glad I did, and that I still treasure today. I have a Hermes scarf of a circus scene–another small fortune–that I wear and am extremely careful to keep track of. And I have scarves from Amsterdam, Paris and Greece that I discover and wear again when looking for travel fashions that remind me of vacations I will probably never be able to take again. I haven't yet found one here in Geneva yet, but the search will continue.
Yes, I have enjoyed the shopping. I confess, I went for a second visit to the food basement at Globus yesterday afternoon. The small produce section displayed exquisite salad greens–raddicchio, ramps, watercress. There were picture perfect artichokes arranged by size, so beautifully formed I could cry thinking of the splayed and stringly chokes they try to sell back at the Safeway in my small rural Maryland county. There were bunches of neatly tied bunches of oblong radishes. There must have been 40 varieties of olive oil and small bowls and bread for tasting.
Perhaps before I leave I will muster up the courage to take some photos of the windows of the numerous chocolate shops. There seems to be, for some reason, a fashion of shaping chocolates like small bugs and Geneva garbage cans. Yes, garbage cans. Perhaps the idea of the juxtaposition of otherwise icky things such as bugs and garbage with exquisite chocolate appeals to the Swiss sense of humor. When I find chocolates shaped like bumblebees, I will know I have found the place to make my gift purchases!
As I'm writing, I'm sitting in the stylish lobby of the Intercontinental Hotel where a group of four beautiful and fashionable thirty-something women have been laughing and chatting. A rakish 40-something fellow just joined them and engaged in a ritual of cheek kissing all around–kiss, kiss, kiss, three for each woman, alternating cheeks. He quickly snuck off to order a bottle of champagne that is now being poured in beautiful stem glasses.
I wish I were close enough to hear what they were talking about. I find that after all these years I still understand just enough French to have a vague sense of what people are saying and maneuver my way around, but not enough to carry on a proper conversation. I feel a bit left out.
There aren't many street food vendors here–at least in chilly April. Really, it's not necessary since there is a "tea room," coffee shop or patisserie on every street block. Happily, Starbucks has not yet conquored Europe and has only a small presence in Geneva, albeit an apparently popular one. It is always crowded.
The street food vendors I have seen sell made-to-order crepes of Nutella, cheese or ham. There is also ice cream, which people seem to buy even in the coldest of weather. The most frequent item on the restaurant menus is perch filets, apparently from Lake Geneva. I ordered these tiny and tender filets in my first lunch here and was transported by them. I can understand their popularity.
I confess, I ordered cheese fondue during my dinner out with clients on Thursday night. It is featured on many Swiss menus. It was served bubbling in a handled crock and placed on a flame alongside the obligatory long forks. A simple basket of crusty bread was provided for dipping, although we had the option of also ordering some potatoes or meats. The bread was plenty and Mitul, one of my clients, indulged to the point where he felt horrid by the end of dinner. It was very good, if simple.
Mitul insisted that the fondue is now purely served for the sake of the tourists, but I'm not so sure. I noticed that the stores carry dozens and dozens of fondue sets in addition to fondue crocks. I find it hard to believe that the tourists alone are buying all this fondue paraphernalia!
Well, the attentive server here has kindly brought me a glass of wine, so I suppose I'll close the laptop and indulge a bit.
Au revoir. Bon soir. Bon nuit.
Posted In: Travel