I have to admit that home cheese mak­ing feels a bit like con­duct­ing a chem­istry exper­i­ment in my kitchen.
I mean, with bread bak­ing, I can FEEL the dough. There is some effort behind the whole affair of mix­ing flour, water, yeast and other ingre­di­ents, watch­ing it rise, knead­ing and watch­ing it rise again before shap­ing it with your hands into a final, glo­ri­ous loaf.
With home cheese mak­ing, you do quite a lot of wait­ing about. You mix in spe­cial ingre­di­ents that you must spe­cial order. Every­thing must be kept immac­u­lately clean and san­i­tary. The guru of cheese mak­ing, Ricki Car­roll, even rec­om­mends keep­ing metic­u­lous notes in a cheese mak­ing journal.
Nev­er­the­less, the results of home cheese mak­ing can't be denied.
Take a look at this 30 Minute Moz­zarella that I made last night with some of the last toma­toes and basil of the year. (In our Zone 7 gar­den we picked about 10 lovely toma­toes just yesterday!)
This salad LOOKS like art, doesn't it?
The recipe is from, of course, Home Cheese Mak­ing, by Ricki Car­roll. I have been slowly work­ing my way through the book, start­ing with the soft, spread­able cheeses. Now that my fancy cheese press has arrived, I am ven­tur­ing into the hard cheeses.
You can't really count this 30 Minute Moz­zarella as a hard cheese. And frankly, it's a lot less work than even the soft cheeses. In fact, it's ridicu­lously easy.
If you are even a lit­tle bit inter­ested in cheese mak­ing, then place an order with the New Eng­land Cheese­mak­ing Sup­ply Com­pany and give this recipe a whirl. I highly rec­om­mend that you buy the book because the intro­duc­tory infor­ma­tion is quite impor­tant, par­tic­u­larly infor­ma­tion about san­i­ta­tion, ingre­di­ents and heat­ing of the milk.
Look how easy the whole process was. I used the recipe from Ricki Carroll's Home Cheese Mak­ing.
Ingre­di­ents I Used:
1 ½ level tea­spoon cit­ric acid dis­solved in ¼ cup cool water
1 gal­lon pas­teur­ized whole milk
¼ tea­spoon liq­uid ren­net diluted in ¼ cup cool, unchlo­ri­nated water
1 tea­spoon cheese salt
How I Did It:
I added the cit­ric acid/water solu­tion to the milk when it was at 55 degrees and mixed it thor­oughly but gen­tly. I slowly heated the milk on the stove to 88 degrees. (It helps that I have a gas stove, I think, because it gives me a great deal of imme­di­ate con­trol over heat.) I gen­tly added the diluted ren­net and mixed again and then heated the milk to 100 degrees.
I scooped the curds from the pot into a microwave­able bowl and pressed to remove the extra whey. (If you are very clever, appar­ently you can reserve the whey for other cheese mak­ing purposes.)
I microwaved the curds on high for 1 minute and again drained off all the excess whey. To dis­trib­ute the heat evenly, I gen­tly folded the cheese over and over like I was knead­ing bread. I microwaved the cheese twice again for 35 sec­onds each, knead­ing after each turn. Then I added the salt, knead­ing it to incor­po­rate it into the cheese.
The recipe says cheese won't stretch prop­erly until it's almost too hot to han­dle. I found it very hot, but if I moved quickly, it didn't feel like it was burn­ing at all. I kneaded until the cheese was smooth and elas­tic. It became nice and stretchy.
(Unfor­tu­nately, I can't knead and take pho­tos at the same time and the two men in my house were busy read­ing. It was dif­fi­cult to entice one of them into the kitchen to play photographer.)
I rolled the cheese into small balls and placed them into the frig to cool.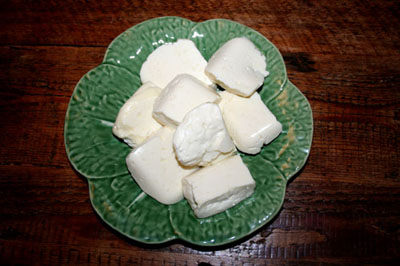 The direc­tions say to put them into a bowl of cold/ice water to bring down the heat if you don't plan to eat them warm, but I for­got that part. Nev­er­the­less, they were just dandy about 30 min­utes later when I made the salad.
What do you think? Does this look like art? Craft? Chem­istry exper­i­ment? Would you give it a try?