First, let me say that I am not a Martha Stew­art basher.
I was not among those who took glee in the fall ofAmerica's Domes­tic Diva. I acknowl­edge that it seems that she can be quite, uh, mean-spirited and bru­tal on her min­ions. But I also rec­og­nize that she has made some sig­nif­i­cant accom­plish­ments. She has cre­ated a huge empire from noth­ing. She raised home­mak­ing to an art dur­ing a time when high-powered careers were more in vogue. I also think she has suf­fered might­ily from some highly pub­li­cized per­sonal embarrassments—an icky divorce when her hus­band ran off with her for­mer assis­tant and a finan­cial scan­dal that prob­a­bly wouldn't have meant jail time for most investors.
So it's not as a Martha-basher that I have decided to air my dis­ap­point­ments in her new garden.
The March issue of Martha Stew­art Liv­ing was my first look at her gar­den at Can­ti­toe Cor­ners, Martha's newest ren­o­va­tion, a 152-acre estate inNew York's fash­ion­ableWestch­ester­County. The arti­cle, "Fruit­ful Endeav­ors," fea­tures her veg­etable gar­den and, accord­ing to the author, some "clever and inno­v­a­tive techniques."
Frankly, I'm dis­ap­pointed in Martha's Fruit­ful Endeavors.
First, Martha has cho­sen to sur­round the 90 by150 feet­gar­den with a seven foot-tall metal fence that looks more like it belongs around her for­mer prison home than around a veg­etable gar­den on an "estate." I under­stand the need for a fence of some height. After all, those white-tailed deer can leap tall build­ings in a sin­gle bound, right? But why a metal fence? There are so much more lovely alternatives.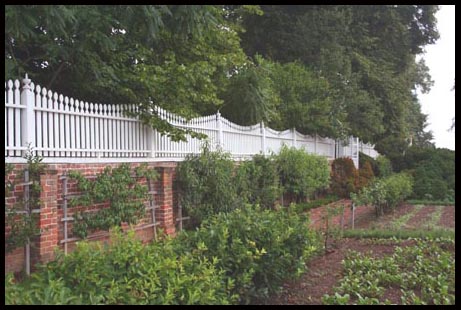 For exam­ple, how about the highly func­tional and also attrac­tive fence sur­round­ing the veg­etable gar­den atMount Ver­non? George Wash­ing­ton designed this beau­ti­ful fence with a brick­work base and picket fence top. Despite the fact that it's over seven feet tall, it doesn't look like a prison exer­cise yard. Rather, the fence adds archi­tec­ture and grace to the garden.
Sec­ond, the arti­cle boasts about her clever use of rotat­ing crops. That's "clever and innovative?"
What's more, it appears that the vast major­ity of the gar­den is laid out in rows, or, as the arti­cle puts it, rows in a "rig­or­ous geom­e­try to yield max­i­mum results and easy access."
Why max­i­mum results? As far as I know, she lives alone. Is she feed­ing a small nation army I'm not aware of? If not, why is she sac­ri­fic­ing beauty purely for the sake of "max­i­mum" production?
I
t seems that old George (Yes, George Wash­ing­ton again.) was feed­ing a heap more peo­ple, what with the slaves and all. His gar­dens seemed quite pro­duc­tive and also man­aged to be a place that you could tarry as well as toil. Why must a gar­den only be for work and production?
Per­son­ally, I believe a gar­den should be as much for plea­sure as for pro­duce. (You can see more of my gar­den here.)
Finally, I see NOT ONE SINGLE PLACE TO SIT in her gar­den. Surely she must have a lawn chair stashed some­where that she drags out when the pho­tog­ra­phers go home, right? And you know I value a place to sit in a gar­den.
Too bad about Can­ti­toe Cor­ners. With Martha's tal­ent, money and hoards of help, her gar­den could have been some­thing to rival the gar­dens of the likes of George Wash­ing­ton and Thomas Jefferson.
I'm sorry so say, Martha has let me down.