First, let me say that I am not a Martha Stewart basher.
I was not among those who took glee in the fall ofAmerica's Domestic Diva. I acknowledge that it seems that she can be quite, uh, mean-spirited and brutal on her minions. But I also recognize that she has made some significant accomplishments. She has created a huge empire from nothing. She raised homemaking to an art during a time when high-powered careers were more in vogue. I also think she has suffered mightily from some highly publicized personal embarrassments—an icky divorce when her husband ran off with her former assistant and a financial scandal that probably wouldn't have meant jail time for most investors.
So it's not as a Martha-basher that I have decided to air my disappointments in her new garden.
The March issue of Martha Stewart Living was my first look at her garden at Cantitoe Corners, Martha's newest renovation, a 152-acre estate inNew York's fashionableWestchesterCounty. The article, "Fruitful Endeavors," features her vegetable garden and, according to the author, some "clever and innovative techniques."
Frankly, I'm disappointed in Martha's Fruitful Endeavors.
First, Martha has chosen to surround the 90 by150 feetgarden with a seven foot-tall metal fence that looks more like it belongs around her former prison home than around a vegetable garden on an "estate." I understand the need for a fence of some height. After all, those white-tailed deer can leap tall buildings in a single bound, right? But why a metal fence? There are so much more lovely alternatives.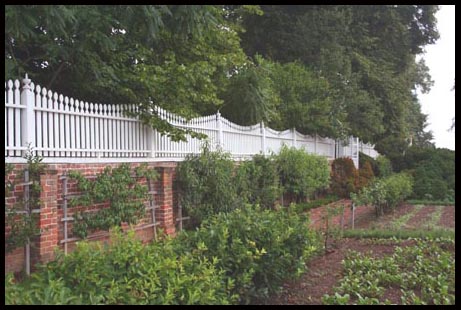 For example, how about the highly functional and also attractive fence surrounding the vegetable garden atMount Vernon? George Washington designed this beautiful fence with a brickwork base and picket fence top. Despite the fact that it's over seven feet tall, it doesn't look like a prison exercise yard. Rather, the fence adds architecture and grace to the garden.
Second, the article boasts about her clever use of rotating crops. That's "clever and innovative?"
What's more, it appears that the vast majority of the garden is laid out in rows, or, as the article puts it, rows in a "rigorous geometry to yield maximum results and easy access."
Why maximum results? As far as I know, she lives alone. Is she feeding a small nation army I'm not aware of? If not, why is she sacrificing beauty purely for the sake of "maximum" production?
I
t seems that old George (Yes, George Washington again.) was feeding a heap more people, what with the slaves and all. His gardens seemed quite productive and also managed to be a place that you could tarry as well as toil. Why must a garden only be for work and production?
Personally, I believe a garden should be as much for pleasure as for produce. (You can see more of my garden here.)
Finally, I see NOT ONE SINGLE PLACE TO SIT in her garden. Surely she must have a lawn chair stashed somewhere that she drags out when the photographers go home, right? And you know I value a place to sit in a garden.
Too bad about Cantitoe Corners. With Martha's talent, money and hoards of help, her garden could have been something to rival the gardens of the likes of George Washington and Thomas Jefferson.
I'm sorry so say, Martha has let me down.