There are flower arrangements and then there are flower arrangements.
Personally, I detest the overly-colorful and tightly packed arrangements that I associate with almost anything you can order through FTD. I have finally trained my husband to get a bunch of fresh flowers from the florist–or even the grocer–that I can arrange at home in my own lovely containers. But Ikebana is another matter altogether. Take a look at these displays from the Philadelphia Flower Show and tell me what you think. They are competitive examples of Ikebana, the Japanese art of flower arranging.
You won't find abundant and exuberant displays of bountiful blossoms. This is all about line and form. Restraint even, from what I can tell. And the container is as important as the arrangements, which often rely on twigs or other materials to make a line to draw the eye and create the form. Frankly, I find the arrangements artful and, well, refreshing.
Those exceptionally sophisticated and informed folks up in Philadelphia even have a local chapter of Ikebana International. I saw some of the participants spending about 45 minutes on their arrangements, which had already been judged, trying to improve them, gently twisting a twig here, adjusting a flower height there. This is flower arranging for the exceptionally patient.
I spent a good deal of time examining these arrangements before heading off to the vendor section to pick up a couple of "vessels" for my garden flowers. I adore the fact that you don't have to have dozens and dozens of blossoms to make a beautiful arrangement and that you can use other materials–even dead stuff–to an artistic end. Right now, I have a good deal of dead-looking stuff to use in arrangements. While I doubt that I'll ever spend more than 10 minutes on an arrangement of flowers, I do believe I have picked up a trick or two from the Ikebana aficionados.
With that said, here's a little Ikebana walking tour from the Philadelphia Flower Show for you…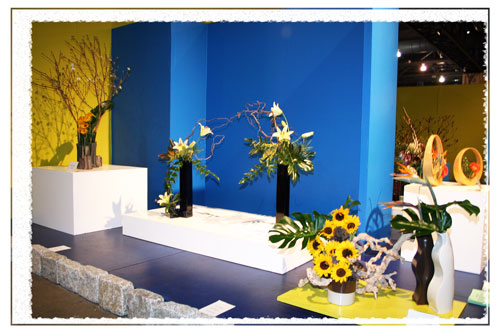 I'm fascinated. What do you think? Is Ikebana for you?