Well, pretty bad, as it turns out.
I returned home from a week in Geneva, Switzerland, on Wednesday night. As I came down the long and winding driveway, this is what I saw.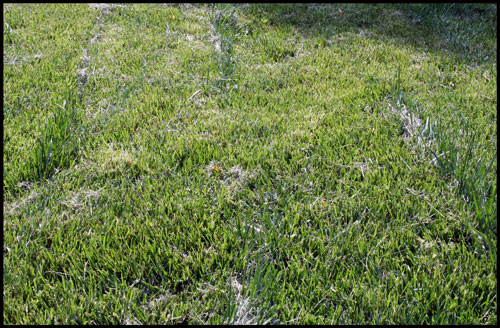 My husband and son had mowed the lawn.
Actually, it didn't look so much as if someone had mowed the lawn as if some large lawn-eating monster had CHEWED the lawn and spit it back out.
The grass was cut to about three different heights–scalped, medium and skyscraper.
Tufts of tall grass sprang up here and there from the rest of the lawn like little green islands.
Impressive quantities of cut and drying grass were left long swaths.
Whole areas of the lawn were left uncut altogether.
Now, you may wonder if Harry and Ben were trying to:
a) Impress on me that I should continue to do all the lawn mowing chores and/or b) Punish me in a way that I would find exceptionally painful for going off to Switzerland and leaving them here to care for my two little dogs.
They say it was neither of these reasons. They swear that the mowing fiasco was a result of too much rain, a broken riding mower and heat. (Apparently it's blazing hot here in Maryland in April.)
So, while my bags were left packed in the bedroom, I headed out yesterday and spent FOUR HOURS repairing the ravaged lawn. Yes, the riding mower was broken, but I managed nicely with the little push mower. And yes, I did insist that Ben help rake, although he continued to mutter that the lawn looked perfectly nice the way they had cut it.
There's nothing like having to mow an acre of grass with a little push mower after a 10-hour flight to make you feel needed.
HOW BAD IS IT? VOTE AND LET ME KNOW.
Tell me what you think. Am I over reacting? At the top right hand side of this page in the Totally Unscientific Survey Center, you can vote for how bad my beautiful lawn looks after a week in the care of the two men in my life. Cast your vote now!