I love crit­ters. (Espe­cially when they don't eat my toma­toes.) And I've been want­ing to invite some chick­ens to live here at Bum­ble­bee Gar­den for some time. So I'm just tick­led pink that I finally worked up enough nerve to place my order for an Omlet Eglu house and three white leghorn chickens.
I'm already think­ing about names. Max­ine, after my 90-year-old great aunt? Min­nie Ruth, after my grand­mother? Olivia or Outa (as in "oh you'da died") after other fam­ily mem­bers? Let the games begin!
Despite the fact that the tem­per­a­tures here in August have been humid and hot, the gar­den is still look­ing fairly good, although the inevitable decline is just around the corner.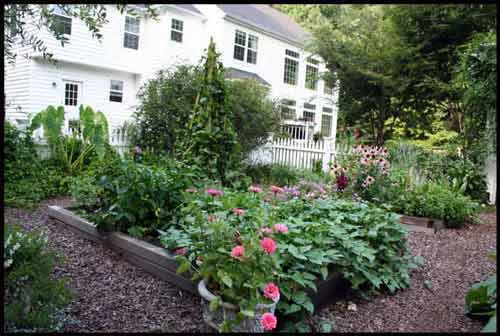 The mal­abar spinach is just beau­ti­ful. It's won­der­ful in cook­ing, but you don't really want to eat it raw. Imag­ing pick­ing some leaves from your front land­scap­ing. Hummm. Very green tasting.
Those are some zin­nias that the but­ter­flies just adore. And behind them are some Ford­hook lima beans. My teenage son adores lima beans. In fact, he may be the only teenager in the world who adores lima beans. So, by God, I am grow­ing him some lima beans.
The con­tainer plant­i­ngs are just com­ing into their own. Well, after all, I did hang on to those pan­sies from last fall a bit longer than I should have.
Good grief. It's hard to wrap my mind around the fact that I'll be plant­ing fall con­tain­ers again so soon.
Where does the time go?