This is a sad blog post to write, because once again tragedy has struck here at Bumblebee.
Almost since our chick­ens arrived, we have been in the habit of let­ting them out of their Palazzo and fenced out­door run to have a walk­a­bout in the after­noons for a cou­ple of hours.
T. Boone prior to the attack
Their habits are fairly pre­dictable. Once the gate is opened allow­ing them the free­dom of the yard, the hens imme­di­ately charge toward the com­post bin clos­est to their Palazzo to see what good­ies I have thought­lessly thrown in there rather than giv­ing to them. The two roost­ers fol­low. But hav­ing lit­tle patience for salad treats, the roost­ers soon grow tired of wait­ing for the hens to fin­ish their first course and leave them to go to the bird feed­ers, where they hunt and peck at the seeds the birds drop.
Come rain, come shine, since last Sep­tem­ber that has been the rou­tine. Only twice did we have alarms from preda­tors. Once, I hap­pened to see a fox in the Back Forty while the chick­ens were on their walk­a­bout. Another time a large stray dog wan­dered down the dri­ve­way just after I had let them free.
Thank­fully, the chick­ens are well-trained to come when I call and will fol­low me like I'm the Pied Piper. This visitor-pleasing trick was eas­ily taught after I real­ized that my chick­ens are corn addicts. They will do any­thing or fol­low any­one they think has a can of corn. Appar­ently, when they see me, their first thought is "CORN!"
Last week while I was in Annapo­lis on errands, Ben freed the chick­ens as part of our reg­u­lar rou­tine. When I returned at sun­set, though, it was clear that some­thing very irreg­u­lar had happened.
There was a large col­lec­tion of white feath­ers in the mid­dle of the front lawn—the kind of feather that could only belong to T. Boone Chickens.
T. Boone was always the odd chicken out in the peck­ing order.
Know­ing some­thing was wrong, I parked the car and yelled inside for Ben to come out. The chick­ens were not in the coop. The chick­ens didn't come when I called.
We began cir­cling the house and call­ing "Chick­ens! Chickens!"
In the back yard, there was another enor­mous col­lec­tion of feathers—these blue-black, clearly belong­ing to Johnny Cash.
Soon after that, Maude, one of our lit­tle egg pro­duc­ers, came out of the woods look­ing fright­ened but oth­er­wise unharmed. We guided her into the Palazzo and went off in search of the other chickens.
Ben found Myr­tle in a state of panic. She had taken refuge high in a tulip tree at the edge of the Back Forty. Although she is a corn addict, she wouldn't budge from her perch for even that tasty treat. We ended up gen­tly nudg­ing her down with a long stick, but then she couldn't be enticed to leave the edge of the woods, which were on the oppo­site side of the house from the Palazzo. After sev­eral unsuc­cess­ful attempts at lur­ing her and then try­ing to cap­ture her, I ended up get­ting Maude, Myrtle's best friend. I cra­dled Maude in my arms while she clucked and cooed. Myr­tle fol­lowed us right to the Palazzo.
About that time Ben dis­cov­ered a whole new area of white feath­ers at the end of the Back Forty. After some more call­ing, T. Boone came limp­ing out of the woods. Clearly, he was injured. We guided him into the Palazzo where I found he had deep, bloody punc­ture wounds on both sides of his body, sug­gest­ing the cul­prit was either a hawk or an eagle—both of which rou­tinely fly over the hay field in front of our house.
Judg­ing from the mas­sive feather pat­terns, I think that the preda­tor started by attack­ing T. Boone in the front yard, pick­ing him up and head­ing south toward the Back Forty. T. Boone is a huge rooster and, I expect, put up quite a fight. The preda­tor prob­a­bly dropped him, cre­at­ing the sec­ond mas­sive patch of feath­ers and allow­ing him to escape into the woods.
We never did find Johnny Cash. Since all the other chick­ens had scat­tered in dif­fer­ent direc­tions to find refuge in the woods, I kept hop­ing that JC would come storm­ing out of the trees like one of those movie heroes, a lit­tle bat­tered but defiant.
Sadly, that wasn't to be. Although we called and searched for a cou­ple of days, there was noth­ing left of Johnny Cash, the chicken in black, but a col­lec­tion of black feathers.
Iron­i­cally, Johnny was car­ried away and on to chicken heaven on the singer's birthday.
T. Boone Chick­ens was so crit­i­cally wounded that I didn't think he would make it through the night. He set­tled into the Palazzo and hun­kered down, keep­ing his head low and refus­ing to walk, eat or drink. He, in fact, did make it through the night although the next day he was still immo­bile and seemed dazed.
Ben dug a hole for his grave and I dis­cussed the pos­si­bil­ity of putting T. Boone out of his mis­ery with my hus­band. But since none of us have the stom­ach for per­form­ing the act, even in mercy, we set­tled for mak­ing T. Boone as com­fort­able as pos­si­ble, watch­ing and waiting.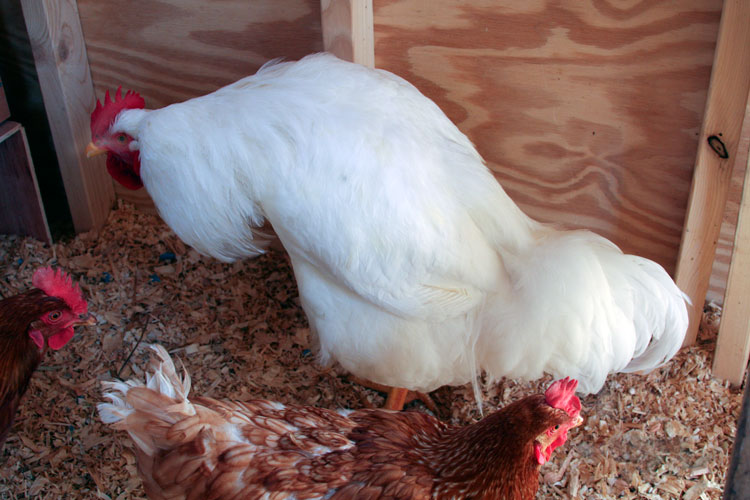 T. Boone fol­low­ing the attack. He is still recovering.
Never under­es­ti­mate the regen­er­a­tive pow­ers of a rooster. Although we had given up T. Boone for dead, he con­tin­ues to rally and improve daily. He is still slumped and is limp­ing badly. But he is eat­ing and drink­ing. As per­haps an even more encour­ag­ing sign that he is on the mend, he has taken over the roost­erly duties with the hens pre­vi­ously per­formed by Johnny Cash (if you get my drift). Per­haps in this new peck­ing order, T. Boone will not be the odd chicken out that he has always been.
T. Boone Chick­ens may never regain his full strength and, in fact, may become our res­i­dent hand­i­capped, or differently-abled, chicken.
I haven't yet allowed the chick­ens out for a walk­a­bout. It will take some time and chicken sit­ting before I think I'll ever be com­fort­able with that habit again. And though I had pre­vi­ously enjoyed the sight of the hawks cir­cling above, their pres­ence now takes on a whole new mean­ing for me. I believe the whole Cir­cle of Life thing is vastly overrated.