I love my pet chick­ens. I don't always love what they do to my garden.
If you have vis­ited here before, you may know that I'm in the habit of let­ting the chick­ens go on walk­a­bout for a few hours in the late after­noon and early evening. This is the time of day they have fin­ished their egg lay­ing chores and are ready for a lit­tle bit of exer­cise and fresh air. Gen­er­ally, I'm either out­side nearby or have the win­dows open so that I can hear the dis­tinc­tive alarm that means "Warn­ing! Warning!"
But I can't always keep an eye on all the hens. They amble here, run there and gen­er­ally take in the whole front and back yard scam­per­ing after bugs, worms, snakes and sala­man­ders. Rarely do they travel in  one large pack. They usu­ally amble around in twosies and three­sies. Tina Turner is usu­ally off in her own la-la land.
The fence around the potager keeps them out of trou­ble there. But they can play heck with the rest of the place with their deter­mined scratch­ing, scratch­ing, scratch­ing for bugs. And the Num­ber One Rule of Chicken For­ag­ing is:  Dig up any­thing Robin just planted.
The last straw was when they absolutely destroyed a beau­ti­ful new Heuchera 'Mys­te­ria' . It was a gor­geous bur­gundy and pink in full bloom. They scratched it out of exis­tence. Baaaaad chickens!
So, for one of the Lowe's Cre­ative Ideas projects I decided to build some cloches to pro­tect the newly planted. Lowe's pro­vided a $100 gift card and let me loose to make some­thing under the head­ing of "Fur­ni­ture Fun."
Now, let me state right up front that I have exactly ZERO expe­ri­ence doing wood­work­ing projects. I have no wood­work­ing power tools except for a drill. I had no pat­tern to fol­low. I just had an idea. So, here's what I came up with.
Don't laugh too hard. And don't send me links of your own gor­geous wood­work­ing projects to make me feel even more inept. I don't think it's bad at all for some­one who never did her own wood­work­ing project in her life. And it works!
For the project, I used the fol­low­ing mate­ri­als and tools:
- Strips of craft wood – Chicken wire – L-brackets of two dif­fer­ent sizes—big and less big (I think those are the tech­ni­cal terms) – Power sta­pler – Wire cut­ters – Screws – Screw­driver – Metal joint tacks – Hand saw – Ham­mer – White out­door deck stain – Paint brush – Sand­ing pad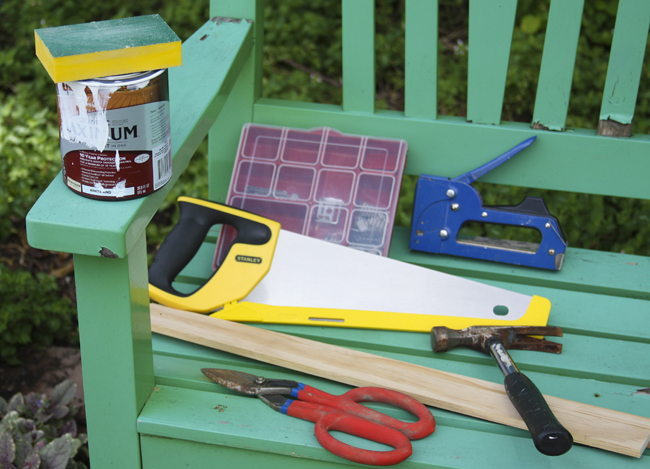 I cut strips of the wood and assem­bled them into squares. I used joint tacks to hold them together and then sta­pled squares of the chicken wire. I topped that assem­blage with another assem­bled wood square. I attached the squares together using L-brackets and then painted the whole contraption—I mean cloche.
I will be mak­ing more cloches of dif­fer­ent sizes. For the next cloche I will paint the wood strips before assem­bling the squares so that the naked wood isn't show­ing between the sandwiched-together squares. It will also help to pro­tect the cloche out in the rain. I think I'll also inves­ti­gate some of the classes that Lowe's offers from time to time to see if I can get some real help learn­ing more wood­work­ing skills.
My first Lowe's Cre­ative Ideas project—a con­crete planter—is here.
Check back here through­out the next few months, because there are more projects, give­aways and other blog­gers' projects to explore.
Lowe's has some pretty cool Pin­ter­est boards too. Go check them out.