I'm going to go out on a limb here and say that most people's garages aren't all that attrac­tive. Unless you're one of the 1% who has a ware­house garage with sparkling stain­less steel cab­i­nets and shiny painted floors or are one of those weirdly dis­ci­plined peo­ple who don't ever let clut­ter get out of hand, you prob­a­bly have a garage cor­ner or two that wouldn't qual­ify for an Archi­tec­tural Digest spread.
Our garage is no excep­tion. We have a two-car garage where we actu­ally do park two cars. We don't have a shed because my fam­ily has a very bad track record with sheds. In my fam­ily, once you get a shed, you soon have to have a shed for your shed. Then your shed's shed needs a shed.  I fig­ure I have that crazy shed-junk-hoarding-gene that would kick in if we had a shed. So, no shed.
I tell you this so you will under­stand that our garage must also serve as stor­age for all my gar­den para­pher­na­lia, chicken sup­plies, bird food bins, recy­cling bins, lawn mower, power washer—well, you get the idea. It's not even a roomy two-car garage. But we just can't go down that shed path.
As part of the Lowe's Cre­ative Ideas "Address the Mess" chal­lenge, I decided to give one of those cor­ners a makeover. Just like on TV!
So, here's the before.
Not pretty. We do a lot of out­door exer­cise, so there is always an impres­sive col­lec­tion of run­ning shoes by the garage door. The tow­els are for wash­ing cars or dry­ing off wet dogs and hus­bands. All that mess on top of the frig is for the chick­ens. I buy canned corn from Wal­mart at $.67 a can, which goes a long way toward explain­ing why they fol­low me around like pup­pies and come when I call. And, as you can see, I save egg shells. They get crushed up and added to the gar­den once that bucket is full. (Yes, I know it's full.)
I decided to paint this sec­tion of the garage wall as a chalk­board and do a bit of mov­ing around. Using sup­plies from Lowe's, here's what I came up with.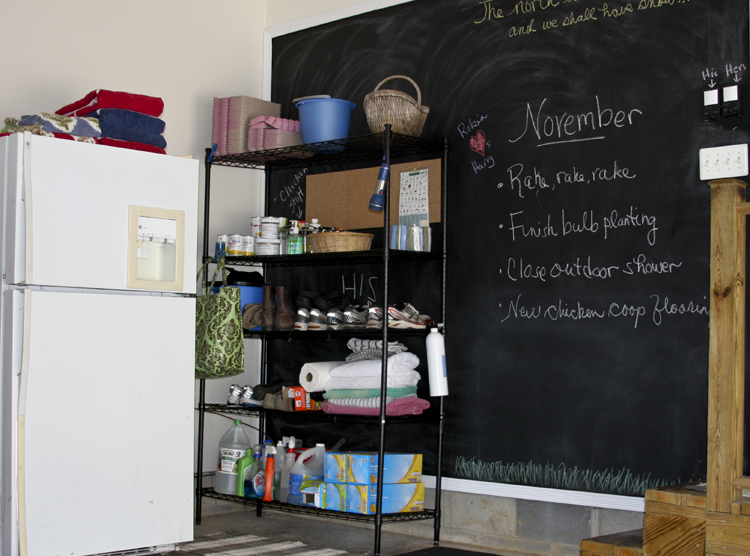 Bet­ter, huh? With a new shelf I was able to relo­cate other frequently-used items near the door. The open-wire shelv­ing means less mess col­lects on the shelves from our run­ning shoes. Bul­letin board squares pro­vide a handy place to post my Good Bugs/Bad Bugs cheat sheet and also any other lists or mag­a­zine arti­cles I want to keep handy.
But the coolest part, in my opin­ion, is the chalk­board wall. I can use it to write sea­sonal mes­sages, to-do lists, wel­come mes­sages or just to draw new art­work as the mood strikes.
This was my first expe­ri­ence using chalk­board paint. I found that it went on amaz­ingly well, requir­ing only a sin­gle coat with a roller. I had to be care­ful not to go over the painted areas too much because once the paint was down it was easy to pick it back up by rolling over it too much. This wall took just a lit­tle more than a quart.
Once you paint your wall, wait at least three days before writ­ing on it. If you cover the whole chalk­board area with chalk and erase it, it will have more of that chalk­board look and less of a black wall look.
What did all this cost? Here are the numbers:
Black wire shelv­ing — $79.97
2 quarts chalk­board black paint — $25.96
5-piece paint roller kit — $12.98
Bul­letin board squares — $8.99
Dec­o­ra­tive wood mold­ing — $25.17
White trim paint — mine
SUBTOTAL — $153.07
Lowe's 10% mil­i­tary dis­count — $15.31
PROJECT TOTAL — $137.76
I think it's a great invest­ment! Of course, now the other three cor­ners of the garage are cry­ing out for their own makeover. What do you think? Isn't this a great way to address the mess?