April 30th, 2012
A few years ago my then-teenage son con­vinced me to watch the movie Snakes on a Plane. It's a movie about—you guessed it—snakes on a plane. Despite the fact that it was an incred­i­bly stu­pid film, it gave me night­mares. But movie snakes don't hold a can­dle to real, live snakes right at home.
This week­end I asked my hus­band to dis­pose of two ratty-looking top­i­ary trees that were in large wooden con­tain­ers on either side of the garage door. I watched from the kitchen win­dow as he dragged them back to the com­post pile. They were over­grown and pot-bound, so I wasn't sur­prised when he tugged and pulled to try and extri­cate them from the con­tain­ers. This went on for some time. I con­tin­ued to watch as he stood with his hands on his hips think­ing about the sit­u­a­tion. Appar­ently reach­ing  a con­clu­sion, I saw him start in on the con­tain­ers with a mattock.
And then I watched as he hot-footed it back to the house.
"Those pots are filled with copperheads!"
Now, I didn't go out to wit­ness it first-hand. It's not because I'm a big old scaredey cat. Oh, no. Rather it's because I have com­plete trust in my husband's pow­ers of obser­va­tion and report­ing of the local wildlife. I mean, if he says cop­per­heads are out there swarm­ing by the dozens, I don't really need to go out and ver­ify it with my own eyes, right? A mar­riage must be based on trust.
I hope it didn't vio­late any Mary­land state wildlife laws, because I'm going to tell you right here that Harry screwed up his manly courage, went back out and com­mit­ted mass snake-icide. He was run­ning around with a shovel smack­ing at the ground, hop­ping around and look­ing very threat­en­ing. I was afraid of him. I think he got most of the lit­tle bug­gers. I got nightmares.
Okay, so that I don't leave you with that hor­ri­ble image I'll share some gar­den pho­tos to calm you down. Let's talk a lit­tle bit about helle­bores, shall we?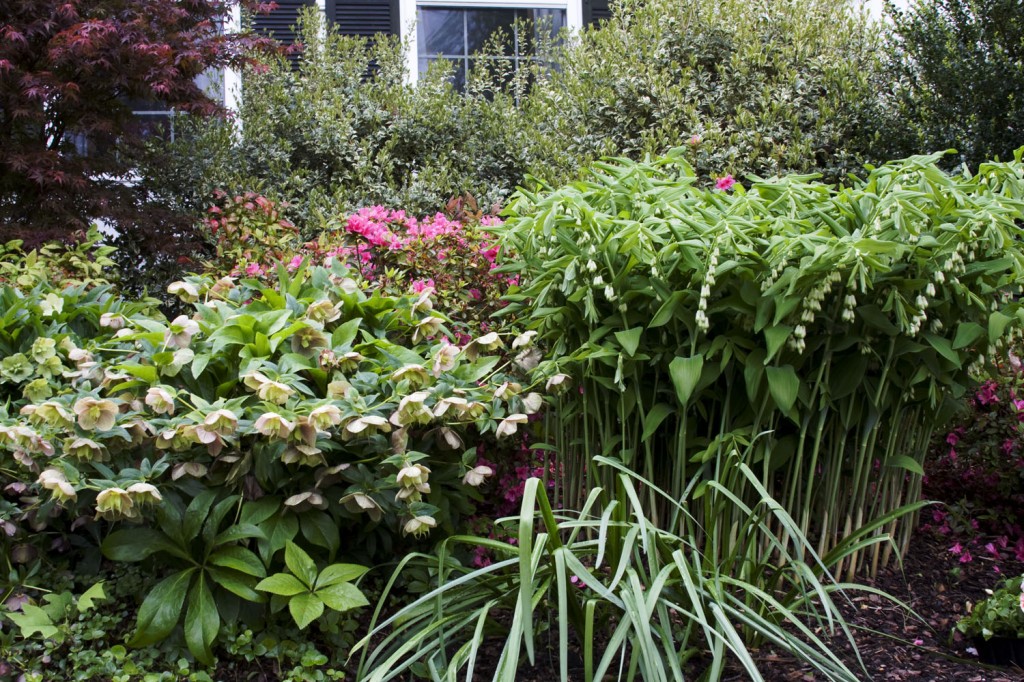 One of the rea­sons I adore helle­bores as much as I do is that they give me hope in the bleak­est months of win­ter. Regard­less of what I do, these babies show their lit­tle heads some­time in Jan­u­ary and grad­u­ally emerge from under what­ever nature has thrown their way. I have seen them emerg­ing from under a foot of snow, in the freez­ing rain and even in those dry win­ter spells.
I help them along by trim­ming off the dam­aged green­ery from the pre­vi­ous year, allow­ing the plant's strength to be con­cen­trated in flow­er­ing. They reward me by bloom­ing and bloom­ing. The flow­ers hang on through spring and even into sum­mer. These are plants that really pull their weight in the garden.
Now that they are well-established I am faced each year with relo­cat­ing or re-homing hun­dreds of lit­tle helle­bore ori­en­talis seedlings. Frankly, it's not a ter­ri­ble task and I always find tak­ers. I'm look­ing for­ward to the time when I have the same issue with the 'Kingston Car­di­nal' helle­bores. Massed together, they make a very nice state­ment while also crowd­ing out weeds and look­ing good almost the whole year long.
Have you for­got­ten all about the snakes yet? Good. What­ever you do, don't think about snakes. Espe­cially don't think about poi­so­nous snakes in the gar­den. Dozens and dozens of swarm­ing poi­so­nous snakes in the garden.
(As always, click on pho­tos to embiggen.)
Posted In: Container Gardening, Gardening, Nature and Wildlife
Tags: copperheads, hellebores, snakes
April 15th, 2012
Each sea­son around my gar­den seems to be dom­i­nated by a par­tic­u­lar color or two. Fall is golden yel­lows and reds. Win­ter is shades of brown and grey, occa­sion­ally punc­tu­ated by the white of snow.
Once spring starts to emerge, yel­low pre­dom­i­nates, with daf­fodils spot­ting the lawn and the edges of the dri­ve­way. Later in the spring the pur­ples emerge, with cro­cuses, irises, wis­te­ria and bap­tisia bloom­ing. Sum­mer gives way to oranges and reds.
But, as with nearly all gar­dens, most of the year the back­drop color is green. Thank good­ness green is such an inter­est­ing color, unlike, say, brown. Brown is, well, brown.
We are blessed to have woods sur­round­ing the sunny, cleared area where our house and potager are sit­u­ated. Although I didn't ini­tially know how to deal with the shade from the trees, over the past few years as I have learned more about shade plants, I have become more enam­ored with the pos­si­bil­i­ties of the shade garden.
The area near the chicken coop is now one of my favorites. (You may be able to tell, given how often I pho­to­graph this par­tic­u­lar spot.) It started out as weeds. Then when we had a big dog, it was referred to as the Poop Gar­den. (Charm­ing, no?) Later, it was just the chicken yard. Now, it is the Green Gar­den or, some­times, the Hosta Garden.
In this area I have been col­lect­ing dozens of hosta vari­eties. The pos­si­bil­i­ties are end­less! Blue Angel and Big Daddy hostas. Small Mouse Ears and Stiletto hostas. Lush Sum and Sub­stance and Gua­camole hostas. Some­day when the Empress Wu hostas are four feet tall, they will be a focal point.
Tiarella, bleed­ing hearts, ferns and lami­ums pro­vide some vari­ety. Flow­er­ing quince and deuzia are back­drop shrubs. I am train­ing an edge­wor­thia into a stan­dard. And although the paint on our kiwi green bench is now begin­ning to flake, I think I'll wait another year to decide how to deal with the paint.
One year some golden-colored creep­ing Jenny escaped from a win­dow box and made itself at home near the back deck. Being a fairly laissez-faire gar­dener, I let it be—and even encour­aged its creepy habits by spread­ing it around. I rather like the look of it encroach­ing into the lawn. In fact, two years ago I was hor­ri­fied when, in a frenzy of weed­ing zeal, my hus­band tried to elim­i­nate it! (But that's not so easy, my friend. So be care­ful about Jenny before allow­ing her to roam.)
Yes, it's green sea­son most of the year around here–my favorite sea­son of all.
(As always, click on the photo to embiggen.)
Posted In: Gardening
Tags: Blogging, garden seating