February 22nd, 2008
Behind our house and beyond the garden is a messy field that needs attention.
It's about three-quarters of an acre that used to be in hay production until the farmer who tends the rest of our field decided that I should mow it instead of him farming it. (Thanks for that.)
My husband would love to see a huge swath of neatly mown green grass. I haven't yet convinced him that traditional lawns should be a relic of the past. The chemicals that must be dumped on them to keep them as pristine as he likes are bad for the environment, as are the emissions of my riding lawn mower.
The other option is just to let is grow scraggly grass. As ugly as that is, it's very good for the environment and as a habitat for the wildlife.
A more manicured idea is to make it a wildflower meadow. But those don't just pop up from seed and look picturesque without some serious seeding and tilling.
If I'm going to go to all that trouble, why not make it my own field of dreams? A lavender field of dreams!
Have you ever been around lavender in bloom? The scent is intoxicating! Heavenly! I grew lavender for a couple of years as the border in my herb beds before I had to tear them out to install the raised beds. As the lavender bloomed, the bumblebees would be everywhere, working slowly and peacefully around the lavender blooms.
Before they faded altogether, I cut bunches of lavender to place around the house and lined my drawers with the blossoms. I even made a pound cake with lavender scented water and lined the baking pans with the lavender blooms.
Then, there's lavender sugar, lavender lemonade, lavender ice cream…
Lavender farms seem to abound judging from a Google search. Most of the farms at the top of the Google listings seem to be small artisan enterprises that also produce their own products. Well, forget that. There's no time.
I wonder if there's a market for pick-your-own lavender farms? Nope. I don't want all those people down here invading my privacy.
Let's see…Maybe I can grow it for some large-scale producer? Probably not. They would want me to meet some quality control standards or obey other rules. I'm not good at rules.
Perhaps…nah. Not that either.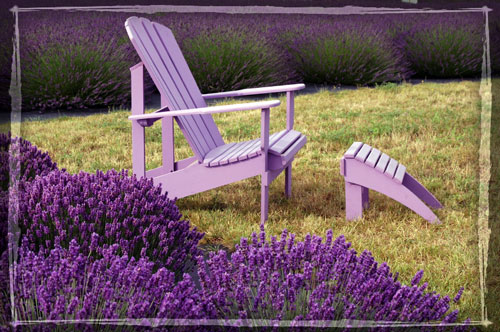 Maybe I'll just make some lavender borders for now…And get a lavender colored chair so I can sit and watch the bumblebees at work. And those lavender fields will just have to remain my field of dreams. At least for now.
About those Survey Results…
Have you cast your vote for how you would spend the $10,000 Donald Trump is going to give you? It's interesting that so many people are choosing hardscaping. And although I made my case for nice garden seating, as of this writing no one has chosen furniture!
January 5th, 2008
Those busy folks over at Gardening Gone Wild are hosting another of their Garden Blogger's Design Workshops–this time on arbors and pergolas.
These types of garden design features are among my favorites because, for me, gardening isn't just about the plants, it's about style, form and flow.
I fret over the outdoor design and arrangement as much as I do inside my home. In fact, the reason that I have been relatively slow to develop all this property is my concern for making sure the design is juuuuusssst right. I have to scratch my head and think really, really hard before I decide what to do.
The other reason I've been fairly slow to develop the larger landscape is that my big ideas often have big price tags. Which gets me to the topic of arbors…
The garden gate and arbor serve as an entrance to the Colonial garden. Fence, gate and arbor are from Walpole Woodworkers.
The ideal garden that lives inside my head was inspired by growing up in Virginia, where there are countless beautiful historic homes, most with gardens, and historic meccas such as Colonial Williamsburg. Our Colonial ancestors designed their gardens for beauty as well as function. Gardens were not just places to grow vegetables in tight little rows, but were extended rooms of the house, with paths, seating and tables that created outdoor rooms for family and guests to enjoy. Most often they mixed flowers, vegetables and herbs in a pleasing mix of form and function.
Once Harry and I finally put down permanent roots here in Maryland, I decided on a Colonial kitchen themed garden to try and make my dream garden a reality. The white picket fence provides a well-defined "room" for the garden and also extends the architectural interest of our white house as you approach down the long and winding driveway. But I knew that just a picket fence without some sort of vertical interest would look more like a pool enclosure than a true garden, so we added vertical interest with the arbor and gate. The view through the gate is to a bench at the end, which draws the eye and invites the visitor down the path.
Growing over the arbor on one side is a well-established clematis that blooms in late summer. On the other side is a wisteria that blooms in early spring. By mid-summer, the clematis and wisteria have twined together to cover the arbor gate.
I still worry about whether remove or drastically trim back the wisteria because of its Herculean vines. I haven't done so yet because they actually are climbing up a white plastic chain that I installed so that the vines would have something to attach to. They twine on the sturdy arbor structure but not on the fence itself. The whack or no-whack decision will come in the spring.
Did I tell you that it takes me a long time to decide what to do in the garden?
Wisteria twines over the arbor. White plastic chains make excellent supports for small vines to cling to–and are soon masked by all the green.
We have added two other permanent vertical points of interest in the garden as well–a tuteur with a henryi clematis and a small Hakuro-Nishiki willow tree that is surrounded by boxwood and, if the squirrels allow, will be filled with purple tulips in the spring. (A nine-month view of the garden can be seen here.) In summertime, the cucumbers climb on bamboo teepees and the tomatoes on Texas Tomato Cages, adding more height to the garden.
Clematis henryi on a tuteur
One of the joys of working in a garden with such a well-defined structure is that it makes maintenance somewhat easier. Because I have raised beds I don't have to tidy bed edges here. Also, the beds are small enough that I can reach in with my long arms to pull weeds or plant. When I need a rest, the bench is right there and provides a perfect location to plot my next big project.
Future big-ticket projects include extending our back patio into a path that leads to the garden. I plan to border the path with lavender and a wild array of useful herbs. Then there's the chicken coop, the garden shed, the mosaic tile entryway, the container garden, the outdoor shower.
The list goes on and on and on…
Until it's all done, I have a nice place to sit and plan my next, very slow, move.
Posted In: Gardening