September 25th, 2009
It is a sea­son of changes.  Not only is the weather cool­ing, life is chang­ing here.
Ben­jamin, my only child (my baby!), has gone off to col­lege at The Citadel.  He is the third gen­er­a­tion on his dad's side to attend col­lege there. When he grad­u­ates, he will wear "The Ring" with his dad, uncles, great uncles and cousins. He knew what to expect going there. He is well-prepared for the chal­lenge. And he seems to thrive on the manly cama­raderie of the place.
That still didn't stop me from cry­ing for pretty much the first week while he was gone. The tears were drawn from a com­bi­na­tion of miss­ing him, wor­ry­ing about him and being dis­ori­ented by the new direc­tion of my life as an empty-nester.
I have stopped cry­ing now, but am still try­ing to nav­i­gate a life with a 50% reduc­tion in the num­ber of men I need to take care of on a daily basis.
In other changes, Harry has left pri­vate prac­tice and gone back to work for the gov­ern­ment. The book I was co-writing this sum­mer, Gro­cery Gar­den­ing, is finally off my desk. The six new baby chicks will be lay­ing in about another month–leaving us with 10 — 12 eggs a day to dis­pose of. And I have major new work and writ­ing assign­ments to keep me busy.
Oh, the garden?
I can't say this has been my most pro­duc­tive or metic­u­lous gar­den year. There were so many dis­trac­tions and chal­lenges that kept me out of the gar­den. Still, Mother Nature was for­giv­ing for just this year. The work from past years has paid off, as peren­ni­als con­tin­ued to bloom, flow­ers to re-seed and the over­all bones of the raised beds, fences and arbor to hold it all together. I don't think I can con­tinue this type of neglect next year and still hold my head up as a gar­dener though.
Now, as weather cools and all these darned changes slow down just long enough for me to catch my breath, I am enjoy­ing being out in the gar­den, putting in fall veg­eta­bles and tidy­ing up for the win­ter to come.
I'm actu­ally look­ing for­ward to win­ter now. I have a fancy new cold frame to put together this week­end. I'm set­ting up the light gar­den in the base­ment to grow micro­greens. Cook­ing projects, sewing projects, writ­ing projects and, of course, vis­its to The Citadel and Ben's vis­its home are going to keep me busy.
Over­all, I'm still liv­ing the good life. It's a life of tran­si­tions, but it's a good life.
(You can click on an image for a larger ver­sion of the photo.)
Posted In: Gardening, Lifestyle
Tags: amaranthe, Blogging, fall, Family, garlic chives, Grocery Gardening, hakuro nashiki willow, lettuce, malabar spinach, pineapple sage, scarlet runner beans, sweet autumn clematis, The citadel
December 21st, 2008
Fam­ily din­ners have always been an impor­tant part of my life. Fam­ily din­ners with cake, espe­cially, have always been an impor­tant part of my life. And the best din­ners are those fea­tur­ing oat­meal cake with coconut topping.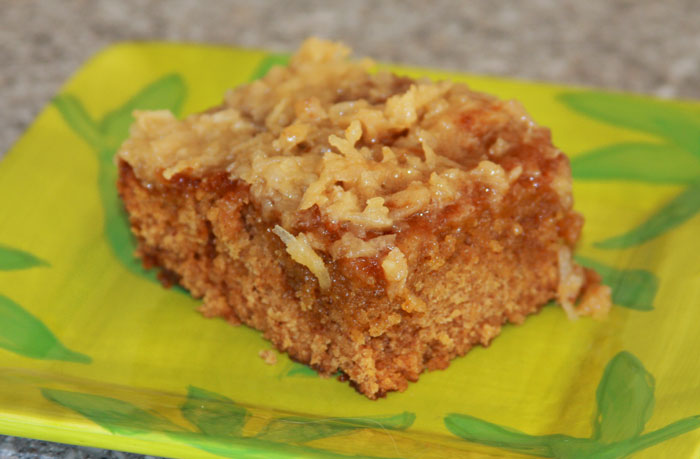 I remem­ber as a kid my par­ents, broth­ers and I used to head over to my grand­par­ents' house for Sun­day din­ner after church. All my aunts, uncles and numer­ous cousins would gather to tell out­ra­geous sto­ries, build and fix things (my fam­ily is always build­ing and fix­ing things) while my grand­mother cooked a tra­di­tional South­ern din­ner and my grand­fa­ther escaped to the gar­den to tend his roses.
My grandmother's din­ners never had fewer than, say, 15 bowls and heap­ing plates on the table—fried chicken, col­lard greens, mashed pota­toes and gravy, oniony cole slaw, lima beans, angel bis­cuits, salty Vir­ginia ham, green beans. And the desserts. Oh, the desserts!
We would eat in shifts because there wasn't enough room at the table for every­one. After­words, the women (no, never the men) would pitch in and clean the kitchen.
I remem­ber one Sun­day my Aunt Mar­garet had fin­ished up in the kitchen and decided to mop and wax my grandmother's floor. I watched on, chat­ting, as she put the fin­ish­ing touches and finally man­aged to wax her way into a corner.
"Oh no! Here I am in this cor­ner and the floor's all wet. I guess I'll just stand here until it's dry," she declared.
"No! You can just walk out and wax over your foot­steps," I said, my five-year-old self proud of com­ing up with the solution.
Of course, my Aunt Mar­garet was always the kid­der and had let me come up with the solu­tion. Still, it's a fond memory—well, that and the cake.
My hus­band loves this cake so much he nearly dances when he real­izes that I have made one. And he keeps saying—over and over again—"Have I men­tioned how much I love this cake?"
Now, if this chocolate-loving gal says that she loves an oat­meal cake, you can take it to the bank that this is a good cake. And it's one of those amaz­ing cakes that only get bet­ter with time.
So make it now and make some­one happy.
Oat­meal Cake with Coconut Top­ping 1 1/4 cup boil­ing water 1 cup old fash­ioned oats 8 table­spoons (1 stick) but­ter 1 cup white sugar 1 cup brown sugar 2 eggs 1 tea­spoon bak­ing soda 1 tea­spoon cin­na­mon 1 1/3 cups flour pinch of salt
Pre­heat oven to 350 degrees. Pour boil­ing water over oats and let stand for 15 min­utes. In a mixer, cream together but­ter, white and brown sug­ars. Add eggs. In a sep­a­rate bowl, mix together bak­ing soda, cin­na­mon, flour and salt. Grad­u­ally add the flour mix­ture to the sugar, but­ter and egg mix­ture until well blended. Stir in the oatmeal/water mix­ture until well com­bined. Pour into a 9 x 13″ bak­ing pan. (I use a Pyrex bak­ing pan.) Bake at 350 degrees for 35 min­utes or until a knife inserted into the mid­dle comes out clean. Top with top­ping after the cake cools for about 10 to 15 minutes.
Coconut Top­ping 8 table­spoons (1 stick) but­ter (brought to room tem­per­a­ture) 1 cup brown sugar 1 1/2 cups fresh grated coconut 1 tea­spoon vanilla 1/8 to 1/4 cup milk
Blend all the ingre­di­ents together until well mixed. Pour over warm (but not hot) cake and spread evenly.
___________________
By the way, if you haven't voted on a chicken name for The Chicken For­merly Known as Min­nie Ruth, please do so now.  I really don't want to name this chicken Johnny.
Posted In: Food and Recipes
Tags: Baking, cake, desserts, Family, Recipes