September 25th, 2009
It is a sea­son of changes.  Not only is the weather cool­ing, life is chang­ing here.
Ben­jamin, my only child (my baby!), has gone off to col­lege at The Citadel.  He is the third gen­er­a­tion on his dad's side to attend col­lege there. When he grad­u­ates, he will wear "The Ring" with his dad, uncles, great uncles and cousins. He knew what to expect going there. He is well-prepared for the chal­lenge. And he seems to thrive on the manly cama­raderie of the place.
That still didn't stop me from cry­ing for pretty much the first week while he was gone. The tears were drawn from a com­bi­na­tion of miss­ing him, wor­ry­ing about him and being dis­ori­ented by the new direc­tion of my life as an empty-nester.
I have stopped cry­ing now, but am still try­ing to nav­i­gate a life with a 50% reduc­tion in the num­ber of men I need to take care of on a daily basis.
In other changes, Harry has left pri­vate prac­tice and gone back to work for the gov­ern­ment. The book I was co-writing this sum­mer, Gro­cery Gar­den­ing, is finally off my desk. The six new baby chicks will be lay­ing in about another month–leaving us with 10 — 12 eggs a day to dis­pose of. And I have major new work and writ­ing assign­ments to keep me busy.
Oh, the garden?
I can't say this has been my most pro­duc­tive or metic­u­lous gar­den year. There were so many dis­trac­tions and chal­lenges that kept me out of the gar­den. Still, Mother Nature was for­giv­ing for just this year. The work from past years has paid off, as peren­ni­als con­tin­ued to bloom, flow­ers to re-seed and the over­all bones of the raised beds, fences and arbor to hold it all together. I don't think I can con­tinue this type of neglect next year and still hold my head up as a gar­dener though.
Now, as weather cools and all these darned changes slow down just long enough for me to catch my breath, I am enjoy­ing being out in the gar­den, putting in fall veg­eta­bles and tidy­ing up for the win­ter to come.
I'm actu­ally look­ing for­ward to win­ter now. I have a fancy new cold frame to put together this week­end. I'm set­ting up the light gar­den in the base­ment to grow micro­greens. Cook­ing projects, sewing projects, writ­ing projects and, of course, vis­its to The Citadel and Ben's vis­its home are going to keep me busy.
Over­all, I'm still liv­ing the good life. It's a life of tran­si­tions, but it's a good life.
(You can click on an image for a larger ver­sion of the photo.)
Posted In: Gardening, Lifestyle
Tags: amaranthe, Blogging, fall, Family, garlic chives, Grocery Gardening, hakuro nashiki willow, lettuce, malabar spinach, pineapple sage, scarlet runner beans, sweet autumn clematis, The citadel
August 5th, 2008
I love crit­ters. (Espe­cially when they don't eat my toma­toes.) And I've been want­ing to invite some chick­ens to live here at Bum­ble­bee Gar­den for some time. So I'm just tick­led pink that I finally worked up enough nerve to place my order for an Omlet Eglu house and three white leghorn chickens.
I'm already think­ing about names. Max­ine, after my 90-year-old great aunt? Min­nie Ruth, after my grand­mother? Olivia or Outa (as in "oh you'da died") after other fam­ily mem­bers? Let the games begin!
Despite the fact that the tem­per­a­tures here in August have been humid and hot, the gar­den is still look­ing fairly good, although the inevitable decline is just around the corner.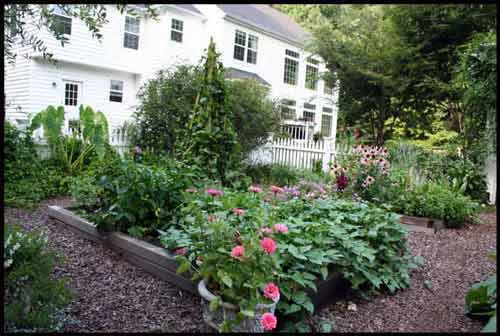 The mal­abar spinach is just beau­ti­ful. It's won­der­ful in cook­ing, but you don't really want to eat it raw. Imag­ing pick­ing some leaves from your front land­scap­ing. Hummm. Very green tasting.
Those are some zin­nias that the but­ter­flies just adore. And behind them are some Ford­hook lima beans. My teenage son adores lima beans. In fact, he may be the only teenager in the world who adores lima beans. So, by God, I am grow­ing him some lima beans.
The con­tainer plant­i­ngs are just com­ing into their own. Well, after all, I did hang on to those pan­sies from last fall a bit longer than I should have.
Good grief. It's hard to wrap my mind around the fact that I'll be plant­ing fall con­tain­ers again so soon.
Where does the time go?
Posted In: Chickens, Container Gardening, Gardening
Tags: containers, fall planting, malabar spinach, pansies