February 27th, 2010
Pardon me while I open the Department of Shameless Promotion. Did you know that Grocery Gardening is on not one…not two…but THREE Amazon best seller lists? The reviews (not all of them from my friends) have also been positive. (My mother is so proud!)
If you don't yet have a copy of this book I wrote with my gardening friends Jean Ann Van Krevelen, Amanda Thomsen and Teresa O'Connor, here's your chance to get one for FREE.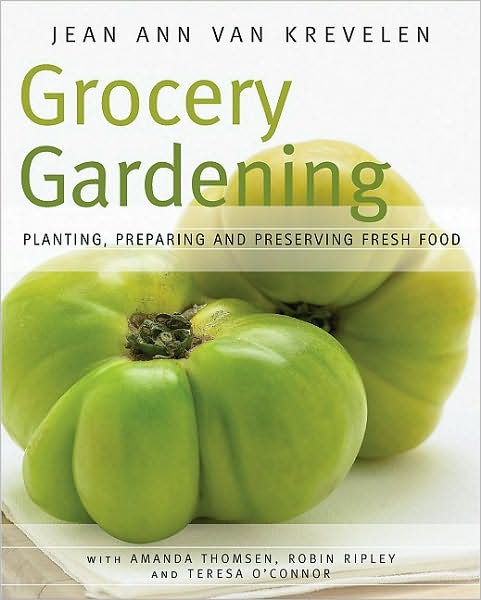 Leave me a comment to this post on or before Friday, March 5, and you'll be entered into the drawing. When you leave your comment, please answer one of these questions:
– How, if at all, do you read other comments on blog posts? Do you read them before responding? Never read them? Something else?
– After commenting, do you subscribe to the follow-up comments on that post?
– Do you return to a blog post after commenting to see what other people have had to say?
Your responses will be most helpful in helping me to deal with the comments all the very kind people leave here at Bumblebee. I always read every comment and love them. I go through phases when I respond. Then I think "No one is looking at my responses" so I stop. But then I feel guilty and start responding again. So, help me out, okay? It'll give me more time for grocery gardening!
Got Grocery Gardening?
UPDATE
Dawn at Owl Hollow News is the winner of the Grocery Gardening drawing. Congratulations, Dawn!
Posted In: Books
Tags: giveaways, Grocery Gardening
December 4th, 2009
Okay, maybe you don't need this book. But lots of other people need this book and maybe you know one of them who could use it for Christmas.
Here's your chance to save $19.95 plus shipping and win a FREE (gasp), yes FREE copy of The NEW Low-Maintenance Garden, by Valerie Easton. (You can see my review here.)
If you want to re-claim your weekends and still have a beautiful and productive garden, Easton offers ideas on how to accomplish just that, including choosing the right plants, incorporating edibles, using hardscape, working with nature and overall simplifying your garden.
To enter for a chance to win, just leave me a comment to this post and tell me why you need this copy of The NEW Low-Maintenance Garden OR leave a tip of your own on how to simplify your gardening tasks. A winner will be selected using a random number generator.
Comments close on Wednesday, December 9. The winner will be announced on Thursday, December 10. Yes, in 2009.
Go!