April 20th, 2010
The spring days grow longer and warmer. Of course, it's wel­comed. Still, the pre­cious bit of time at the end of the work day that I can spend water­ing, weed­ing, mov­ing plants, start­ing new plants, pot­ting up con­tain­ers, is never enough. I have big plans for the sum­mer of 2010. Where will I find the time? And the energy?
The side gar­den near the chicken coop—where we sit on the bright green Swedish bench to watch Chicken TV—is a major project. It was a long-neglected area that we once referred to as Winifred's Poop Gar­den because of its lib­eral use by our now-deceased Bel­gian Malinois.
Last year I divided var­ie­gated hostas and sup­ple­mented them with 'Sun and Sub­stance' and a cou­ple of 'Blue Angel' hostas. The slugs love the var­ie­gated hostas, so they'll slowly be replaced with other plants. Sev­eral tiarella, or foam flow­ers, have gone in. Twenty more are on the way. I'm keep­ing my eyes open for more dra­matic, thick-leafed hostas that Mr. McGregor's Daugh­ter tells me will be more slug-resistant so I can toss the var­ie­gated slug bait to the chickens.
Try­ing to estab­lish a lit­tle green bit of lawn in front of the bench where the two lit­tle Papil­lons can lounge has been a strug­gle. It was look­ing pretty good last sum­mer, but the snow plows did severe dam­age as they piled 5-foot tall walls of snow in the area this win­ter. The chick­ens are attracted to the fresh soil when they're on walk­a­bout and have man­aged to dig up the tiny grass seedlings I've been nurs­ing. Now I'm think­ing I'll trans­plant more of the creep­ing Jenny from other parts of the yard to cre­ate a dif­fer­ent kind of ground cover.
In the front of the house—a shady, north-facing expo­sure, the 'Encore' aza­leas are bloom­ing despite severe dam­age from the heavy snow. The helle­bores have been cast­ing off seedlings for a cou­ple of years now and I will be mov­ing them over to the wood­land gar­den some­time this summer.
In the potager,  the angel­ica anemones are bloom­ing.  I must fig­ure out a plan for them, as they re-seed pro­lif­i­cally and clog up my gar­den paths. I feel guilty pulling them up like weeds, but what is a gar­dener to do? One must have paths!
I con­tinue to be amazed by the sim­ple lit­tle yel­low pan­sies that I had planted in win­dow boxes last fall. They hiber­nated under a cou­ple of feet of snow and snuck out small blos­soms despite the cold. Now they've roared back to life. I need to re-plant the win­dow boxes, but the pan­sies look so vibrant and healthy, I'm tem­porar­ily relo­cat­ing some of them into other containers.
I con­tinue to tell myself to put one foot in front of the other and to stop to enjoy the sound of the birds and the beauty of spring. After all, the work is for a rea­son. Right?
Posted In: Gardening, Gardening Life
Tags: foam flowers, hellebores, hostas, pansies, Papillons, spring, tiarella
August 5th, 2008
I love crit­ters. (Espe­cially when they don't eat my toma­toes.) And I've been want­ing to invite some chick­ens to live here at Bum­ble­bee Gar­den for some time. So I'm just tick­led pink that I finally worked up enough nerve to place my order for an Omlet Eglu house and three white leghorn chickens.
I'm already think­ing about names. Max­ine, after my 90-year-old great aunt? Min­nie Ruth, after my grand­mother? Olivia or Outa (as in "oh you'da died") after other fam­ily mem­bers? Let the games begin!
Despite the fact that the tem­per­a­tures here in August have been humid and hot, the gar­den is still look­ing fairly good, although the inevitable decline is just around the corner.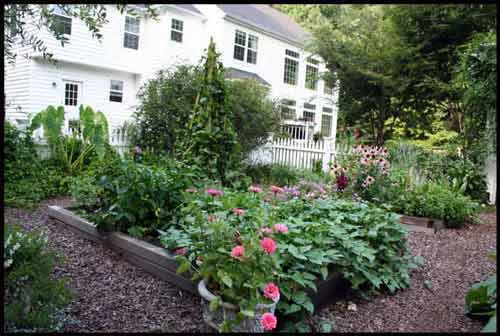 The mal­abar spinach is just beau­ti­ful. It's won­der­ful in cook­ing, but you don't really want to eat it raw. Imag­ing pick­ing some leaves from your front land­scap­ing. Hummm. Very green tasting.
Those are some zin­nias that the but­ter­flies just adore. And behind them are some Ford­hook lima beans. My teenage son adores lima beans. In fact, he may be the only teenager in the world who adores lima beans. So, by God, I am grow­ing him some lima beans.
The con­tainer plant­i­ngs are just com­ing into their own. Well, after all, I did hang on to those pan­sies from last fall a bit longer than I should have.
Good grief. It's hard to wrap my mind around the fact that I'll be plant­ing fall con­tain­ers again so soon.
Where does the time go?
Posted In: Chickens, Container Gardening, Gardening
Tags: containers, fall planting, malabar spinach, pansies